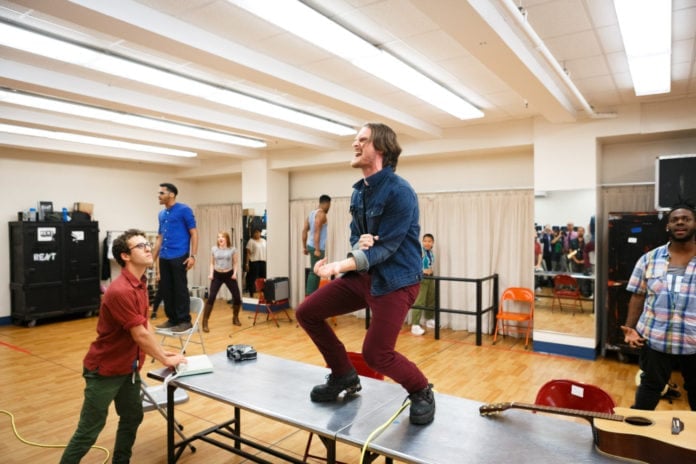 Good news for Rent fans. The lottery returns with the 20th anniversary tour of Jonathan Larson's award-winning musical. The pre-show lottery makes it easier to buy good tickets. Pulitzer Prize and Tony Award winning Rent runs Tuesday, September 20 through Sunday, October 2. Performances will be at the Winspear Opera House in Dallas Arts District, as part of the AT&T Broadway Series.
The lottery will take place at the AT&T Performing Arts Center Box Office, 2403 Flora Street, prior to each performance of the raucous rock musical. A limited number of tickets will be available for $24 each at the lottery.
The box office will be open to accept entries starting 1 ½ hour prior to each performance. To enter, each person should print their name and the number of tickets (1 or 2) they want to purchase on a card. An hour before the curtain, names are drawn for the specially priced tickets.
Only one entry is allowed per person per performance, and cards will be checked for duplicates before the drawing. Lottery winners must be present for the drawing, and they will be asked to show a valid ID to purchase the tickets.
In 1996, Rent, an original rock musical by a little-known composer, opened on Broadway. It forever changed the landscape of American theatre. Two decades later, Jonathan Larson's Rent continues to speak loudly and defiantly to audiences across generations and all over the world. A re-imagining of Puccini's La Bohème Rent follows an unforgettable year in the lives of seven artists struggling to follow their dreams without selling out. With its inspiring message of joy and hope in the face of fear, this timeless celebration of friendship and creativity reminds us to measure our lives with the only thing that truly matters—love.
The show received its world premiere off-Broadway at New York Theatre Workshop on February 13, 1996 to ecstatic reviews and transferred to Broadway on April 29, 1996. Rent is the winner of the 1996 Tony Award for Best Musical as well as the Pulitzer Prize for Drama. It is one of only five musicals to win both awards.
Based on the original direction by Michael Greif, Evan Ensign will re-stage this 20th anniversary tour. The choreographer will be Marlies Yearby.
Regular priced Rent tickets range from $80-$100; for tickets or other information, visit www.attpac.org or call 214-880-0202