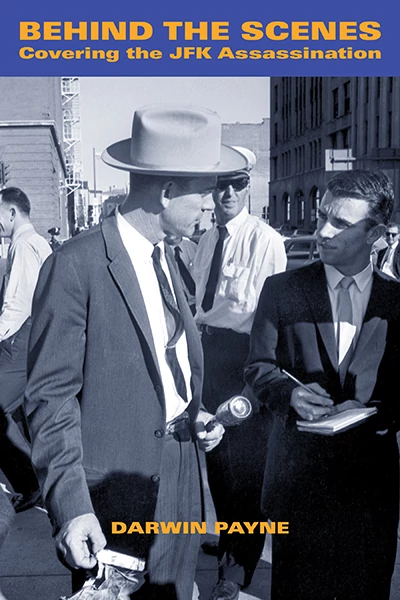 DALLAS (SMU) – Sixty years after the assassination of President John F. Kennedy, the tragedy continues to yield questions and interpretations of the day Kennedy's Camelot ended. Experts at SMU can offer their interpretation of rarely-seen historic materials in campus special collections libraries.
Behind the Scenes is a new book by journalist and emeritus SMU communications professor Darwin Payne, who sprinted from his Dallas Times Herald desk to Dealy Plaza when shots were fired at the president.As a young reporter, Payne interviewed eyewitness Abraham Zapruder, who captured the moment Kennedy was shot on film, and rode the elevator with detectives to the sniper's nest in the School Book Depository Building. Payne can discuss covering the biggest story of his career and will speak at a free Nov. 16 SMU event.
"Dear Dallas," they wrote: Nearly 800 people from all over the world sent letters or telegramsafter the Kennedy assassination, expressing condolences or disgust with the city where it happened. The letters can be found in SMU's DeGolyer Library in the papers of then Dallas Mayor Earl Cabell. SMU Center for Presidential History Director Jeffrey Engel can discuss the historical context and scholar Kim Cobb can discuss her 2020 analysis of the letters "by the numbers." Spoiler alert – More of the letters expressed sympathy than hate.
Dallas clergy called for soul-searching after the JFK assassination. SMU library archives include copies of Methodist, Baptist and Jewish sermons preached to overflowing congregations in the days following the assassination. While city leaders proclaimed Dallas' innocence, local clerical leaders addressed their congregations calling for self-examination and change. Political science professor Matthew Wilson, an expert on religion and politics, is available to discuss the sermons and the introspective tone of the religious community's response.
Rarely seen photos of President John F. and Jacqueline Kennedy arriving in Fort Worth and engulfed by a crowd on Nov. 21, 1963, and Marina Oswald leaving the Dallas Municipal Building after visiting her husband, her daughter in her arms, are part of SMU's Andy Hanson photo collection. Hanson, a Dallas Times Herald photographer from 1960 to 1990, gave his 700-photo collection to SMU's DeGolyer Library.
About SMU
SMU is the nationally ranked global research university in the dynamic city of Dallas. SMU's alumni, faculty and more than 12,000 students in eight degree-granting schools demonstrate an entrepreneurial spirit as they lead change in their professions, communities, and the world. Building on its history of excellence, the University has launched SMU Ignited: Boldly Shaping Tomorrow – a multiyear $1.5 billion campaign to empower outstanding students, to enrich teaching and research, and to enhance our campus and community.