The State Fair of Texas named 36 concessionaires as semi-finalists for the coveted Big Tex Choice Awards, with 19 savory and 17 sweet entries. Finalists for the titles of Best Taste-Savory; Best Taste-Sweet; and Most Creative entries will be announced later this summer. From the descriptions of these entries, it's going to be hard for this year's judges to choose a Most Creative dish. Many semi-finalists appear to have let their imaginations run wild, and their unusual, over-the-top entries are brimming with creativity. Please see below for descriptions of the entries.
BEST TASTE-SAVORY
BUTCHERS BLOCK: Three-cheese macaroni and cheese topped with smoked brisket, crispy fried chicken, candied bacon bits, jalapeño peppers, and with sausage on the side. The macaroni dish is then drizzled with a brown sugar chipotle sauce for the ultimate Carnivore bowl.
CORNBREAD SAUSAGE BOMBS: Representing the four major Texas food groups: cornbread, smoked sausage, pimento cheese, and jalapeño. Pecan-smoked Texas sausage slices are topped with pimento cheese and a slice of jalapeño, then dipped in a fluffy cornbread batter.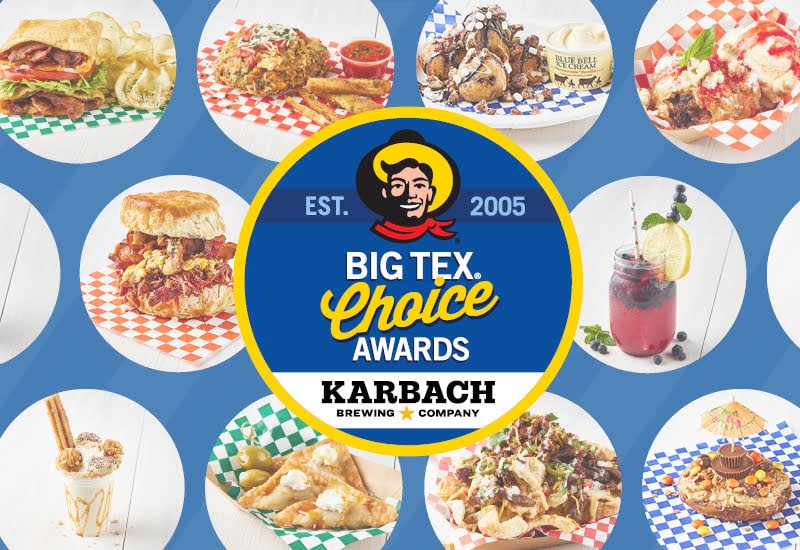 CREOLE ETOUFFEE BEIGNETS: Onions, bell peppers, and celery etouffee sauce is mixed with shrimp, smoked sausage, and steamed rice, dipped into beignet batter and fried, then topped with powdered sugar.
DEEP FRIED BIRRIA BOMB Stuffed with birria, Oaxaca cheese, and home-style mashed potatoes, rolled into a ball and dipped in a special batter. Deep fried then topped with fire-roasted poblano ranch dressing and fresh cilantro.
DEEP FRIED PHO: Traditional Vietnamese comfort food handcrafted, rolled up, and deep-fried Noodles, slices of beef, fresh herbs, bean sprouts, and a taste of aromatic pho broth served with a side of pho broth for dipping, lime, jalapeños, cilantro, hoisin sauce, and sriracha.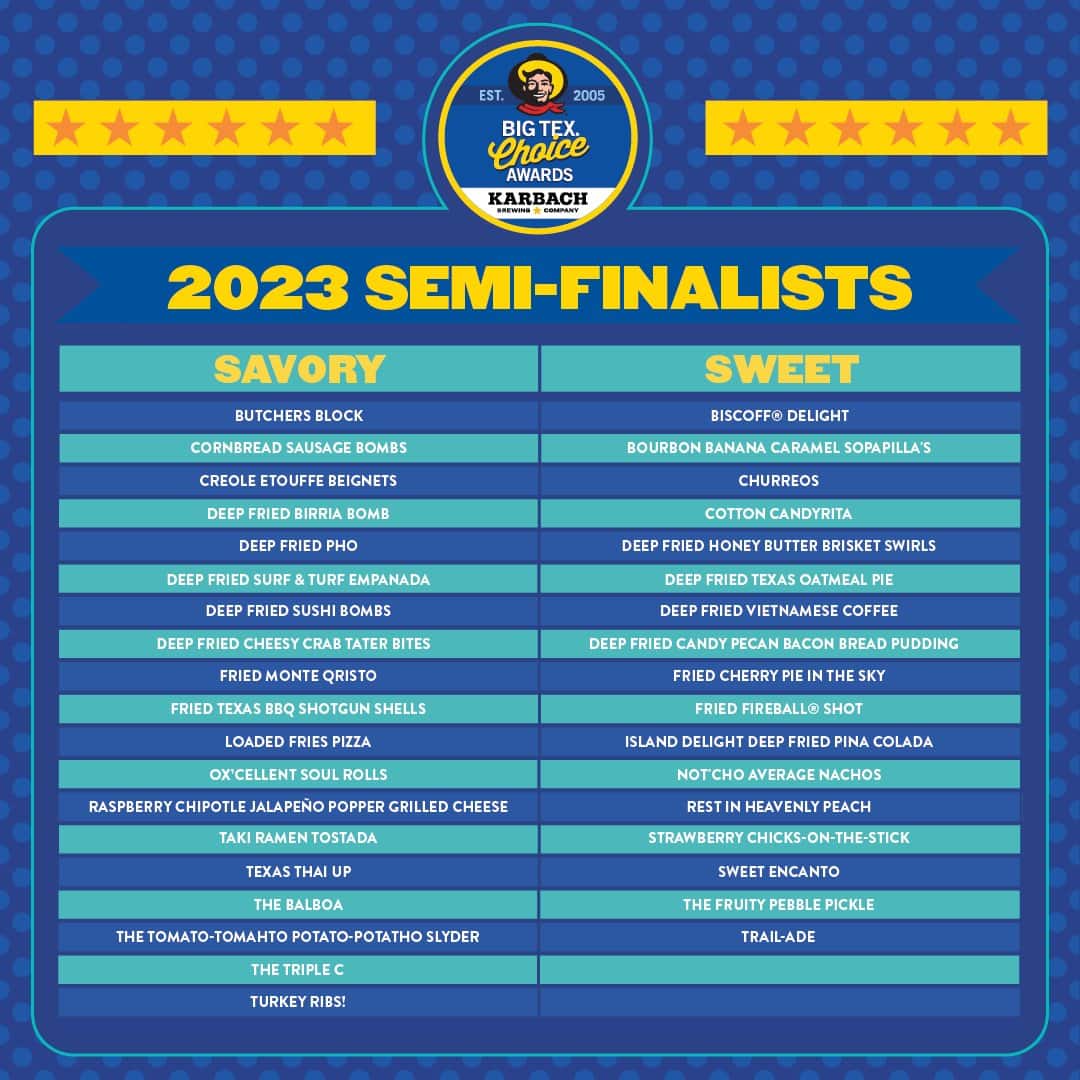 More Deep Fried Savory Entries
DEEP FRIED SURF & TURF EMPANADA: Pulled lobster and crab meat, Palacio Chorizo, sweet corn, heavy cream, cilantro, paprika, and a splash of lime juice wrapped in a traditional corn masa pastry, fried and served with a side of garlic aioli infused with avocado oil.
DEEP FRIED SUSHI BOMBS: Sushi rice is topped with imitation crab meat and salmon, quick baked, then rolled in panko breadcrumbs, deep-fried and served with a side of seaweed and Yum Yum dipping sauce.
DEEP FRIED CHEESY CRAB TATER BITES Minced crab meat, shredded potato, cheese, and spices formed into tater bites; cheesy Cajun sauce with onions, bell peppers, and celery sautéed with melty American cheese and a secret Cajun spice mix and added crawfish, ladled with cheesy crawfish sauce on top.
FRIED MONTE QRISTO: Texas BBQ spin on brisket, American cheese, and smoked turkey breast with Swiss, golden fried with powdered sugar, served in a recyclable paper tray with raspberry chipotle BBQ sauce.
FRIED TEXAS BBQ SHOTGUN SHELLS
Cheesy, savory roll-on-a-stick made with Texas BBQ beef brisket, melted Velveeta®, and cream cheese, seasoned with Meat Church Texas Sugar Rub®, then rolled in a pasta sheet, wrapped in hickory smoked bacon, and rolled in jalapeño breadcrumbs.
LOADED FRIES PIZZA: Pizza dough hand-tossed and stretched onto a giant 16″ pizza screen. After ladling on house-made buttermilk ranch dressing, the pie is covered with a layer of freshly shredded mozzarella with a pile of salted French fries added, plus a blanket of cheddar cheese topped with crunchy chopped bacon.
OX'CELLENT SOUL ROLL: Beef oxtails cooked, chunks of meat and cornbread are paired with rich butter, celery, and sweet onions. The hearty beef mixture is rolled into a light and flaky, crispy spring roll and served deep-fried.
RASPBERRY CHIPOTLE JALAPEÑO POPPER GRILLED CHEESE: Grilled bread, roasted jalapeño pepper, and bacon come together in grilled cheese; fresh jalapeños filled with cream cheese & raspberry chipotle jam are wrapped in bacon and roasted, then sandwiched between slices of white bread and cheddar cheese and griddled until golden brown.
TAKI RAMEN TOSTADA A ramen noodle cake is flash-fried, smothered with made-from-scratch savory seasoned taco meat, and topped with crispy Asian sesame seed slaw and a drizzle of garlic lime aioli. Mexican queso banco and crumbled Takis® are sprinkled on top.
State Fair Concessionaires More Savory Entries
TEXAS THAI UP: Deep fried pad thai combination of pork and beef battered and rolled in pad thai noodles, then deep fried. Dip in a pad thai sauce topped with crunchy cashews and freshly chopped green onions.
THE BALBOA: Pizza sandwich made with Italian flour from Naples to create light, fluffy bread, sliced open, with garlic aioli spread on top and bottom, then layered with pepperoni, capicola, soppressata, smoked provolone cheese, tomatoes, banana peppers, artichokes, onions, black olives, mushrooms, and arugula greens. Topped with a balsamic reduction glaze.
TOMATO-TOMAHTO POTATO-POTATHO SLYDER: The buns are created with Southern fried green tomatoes base for two-ounce ground beef patty seasoned and smothered with provolone cheese and sautéed bell peppers, then layered with pickles and lettuce. Dressed in a secret WAC spread, drenched in queso, topped with olive branch, and served on a bed of seasoned potato-potahtos.
THE TRIPLE C: Homemade waffle cone, add Nashville Hot Jumbo Tenders, hand-breaded, fried and mixed with mac and cheese, finished with a secret sauce and sprinkles of homemade breadcrumbs.
TURKEY RIBS: Gently fried turkey served with stuffing seasoned fries, homemade giblet gravy, and a secret salsa recipe. Or order it Texas Style with BBQ sauce fries, jalapeños, and pickles.
BEST TASTE-SWEET
BISCOFF® DELIGHT: Classic New York-style cheesecake coated with Belgian chocolate adorned with crushed Biscoff® cookies for a delightful crunch, and drizzled with Lotus Biscoff® spread for a caramelized touch. Crowned with Biscoff® cookie.
BOURBON BANANA CARAMEL SOPAPILLAS: Hot and delicious traditional sopapillas topped with vanilla-caramel-infused bananas, sweet bourbon syrup, crushed candied pecans, sweetened mascarpone cheese, crumbled Nilla Wafers, and dusted with powdered sugar. CHURREOS: Deep-fried mini churros tossed in cinnamon and sugar, with a drizzle of chocolate syrup and cream cheese icing, topped with crushed Oreos®.
COTTON CANDYRITA: Starting with a cotton candy-pink sugar-rimmed cup with the perfect amount of ice, a cotton candy-infused margarita is then added and topped off with a dollop of fresh cotton candy.
DEEP FRIED HONEY BUTTER BRISKET SWIRLS: In the spirit of Little Debbie® Pecan Spinwheeels and homemade cinnamon rolls, the buttery dough layered with chopped brisket, rolled and cut into swirls, fried and glazed with secret honey butter sauce.
DEEP FRIED TEXAS OATMEAL PIE: oatmeal cream pie is dipped into sweet and fluffy Dr. Pepper® flavored pancake batter and fried, then drizzled with Big Red® Soda reduction and covered with marshmallow sauce over top, and dusted with powdered sugar.
DEEP FRIED VIETNAMESE COFFEE
Slow-brewed coffee-infused cake that is rolled into a ball, battered, and deep-fried Texas style, dusted with powdered sugar and served with velvety condensed milk.
DEEP FRIED CANDY PECAN BACON BREAD PUDDING: A marriage of French bread and a perfect custard recipe, cut into bite-size morsels, fried to a golden brown with a rich and creamy center. Tossed in cinnamon sugar and candy pecans, next to crispy chopped bacon, topped with New Orleans praline sauce plus salted caramel bourbon sauce.
FRIED CHERRY PIE IN THE SKY: Pie tart mold is lined with flakey, buttery pastry dough, layered with tender, crumbly shortbread cookies, juicy and tart sweet cherries, shortbread cookies topped with more pastry, hand-crimped then dipped in the fryer, topped with butter almond shortbread crumble, paired with Blue Bell ® vanilla ice cream drizzled with cherry preserves, clouds of whipped cream, and sugared dark sweet cherries.
DEVIL OR ANGEL?
FRIED FIREBALL® SHOT: Angel food cake meets the red-hot and fiery cinnamon flavor of Fireball® Cinnamon malt liquor. After frying, Fireball® Cinnamon is poured over the top and into a shot glass. No need to choose between the angel or devil on your shoulder.
ISLAND DELIGHT DEEP FRIED PIÑA COLADA: Specialty rum cake recipe, baked and smashed, with pineapple, creme de coconut, and lime added, formed into spheres and dusted in a sweet crumble. Lightly fried and decorated with a piña colada-inspired buttercream, golden sprinkles, and sugar glitter.
NOT'CHO AVERAGE NACHOS: Wonton wrapper filled with a delicious cherry or apple filling, deep fried, sprinkled with cinnamon sugar. Each serving is topped with whipped topping and a dusting of brownie crumbs, then garnished with slices of strawberries, fresh blueberries, and diced peaches with a drizzle of citrus glaze and chocolate sauce, served with a cajeta-filled churro stick.
REST IN HEAVENLY PEACH
Two slices of fluffy angel food cake are grilled in rich butter oil put on a cloud of light and sweet whipped cream topping with cold dollop of delicious peach pie filling on top.
STRAWBERRY CHICKS-ON-THE-STICK: Combining sweet and fruity with a creative twist; four seasoned wings are plunged into funnel cake mix, deep fried, then tossed and sauced in honey and garlic; spiraled on the stick infused with strawberries. Sprinkled with lemon rub and powdered sugar, laid on cloud of whipped cream, splashed with strawberry syrup.
SWEET ENCANTO: A round waffle is lightly sweetened with caramel dulce de leche, swirled on a wafer with added cream with slices of strawberry, kiwi, peach, and shredded coconut, topped with raspberry jam and drizzled with sweetened condensed milk.
THE FRUITY PEBBLE PICKLE: A whole dill pickle wrapped in Fruit Roll-Up® and Fruit by the Foot®, drizzled in sugar syrup and coated in Fruity Pebbles®. Then drizzled with strawberry snow cone syrup.
TRAIL ADE: Summer fruits, crisp cucumbers, and fresh mint blended with homemade lemonade for a fruity, refreshing, nonalcoholic cocktail served in a souvenir Cowboy boot cup.
STATE FAIR CONCESSIONAIRES CONTEST
The contest kicked off in June with an impressive 57 entries represented by 37 concessionaires. All competitors are required to have at least one year of experience as a concessionaire at the State Fair of Texas. With food as a cornerstone of the annual State Fair, these contenders are more than just successful small business owners; they have proven themselves to be authentic representations of the dedication and passion brought to the table each year.
A panel of internal judges choose the semifinalists using blind judging from start to finish, so the panel does not know which concessionaire is behind each recipe. The scoring is based entirely on the food entry and leaves no room for bias toward concessionaires. Contestants vying for a spot in the semi-final round use their creativity by coming up with enticing names and descriptions for their original concoctions. Faced with a solid list of tempting treats, the judges base their choices solely on which food name, photo, and description looks and sounds the most appealing to their personal palette, just like a fairgoer might do while at the Fair.
State Fair Concessionaires Second Round
The second round of preliminary judging begins over the next few weeks, with the panel tasting each of the edible creations to see if they are as delicious as promised. The tasting round will judge each semi-finalist on, at minimum, four main ingredients of a finalist-worthy concoction: uniqueness, presentation, creativity, and, of course, taste. The judges will also have to defend their rankings against the seemingly simple yet crucial question – how likely is a fairgoer to buy this item? By mid-August, anticipation will be at an ultimate high when the Fair-food finalists are announced. The top 10 entries will compete in the final round at this year's Big Tex Choice Awards ceremony.
Concessionaires can still introduce their new creations at their stands at this year's State Fair, even if they don't place in the top three categories. For information about the 2023 State Fair of Texas, which runs Sept. 29-Oct. 22, visit BigTex.com.