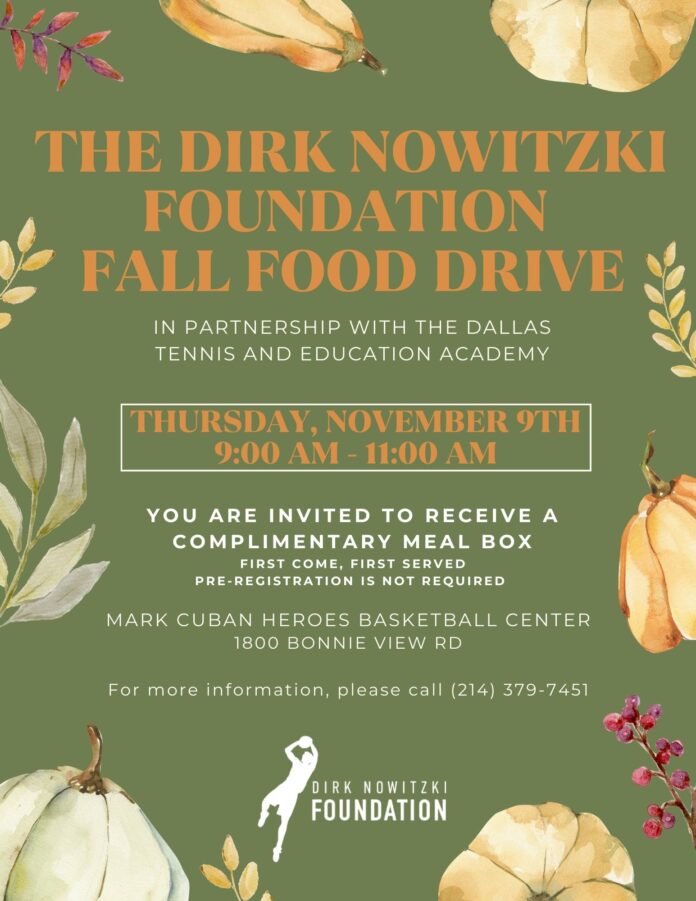 DALLAS (Nov. 1, 2023) – As the holiday season approaches, The Dirk Nowitzki Foundation will host and fully fund The Dirk Nowitzki Foundation Fall Food Drive on Thursday, Nov. 9, from 9 -11 a.m. at the Mark Cuban Heroes Basketball Center (1800 Bonnie View Rd., Dallas, TX 75216). Free and open to the public, the drive-up event will offer free meals to approximately 1,000 families. Pre-registration is NOT required.
"My family and I are happy that our foundation is able to assist our community at such an important time of year," said Dirk Nowitzki. "As we approach the holidays and the weather gets colder, we want to give back to North Texas and help families in need."
Local firefighters and law-enforcement members from various agencies will volunteer to help load the food into cars on Nov. 9.
Each meal pack serving 4-6 people will include a whole uncooked turkey; a variety of sides (green beans, corn, macaroni and cheese, and mashed sweet potatoes); fresh potatoes, sweet potatoes and yams; two cans of cranberry sauce; dinner rolls; stuffing mix; a southern pecan pie or sweet potato pie; and a case of drinking water. A can opener, plastic utensils and containers to warm food will also be provided. Food boxes are limited and available on a first-come, first-served basis.
And with colder temperatures around the corner, The Dirk Nowitzki Foundation will donate warm blankets to participating families.
The event is in partnership with the Dallas Tennis Association's philanthropic arm, the Dallas Tennis and Education Academy (DTEA). DTEA provides free and low-cost tennis and education to under-resourced children and is headquartered at Kiest Tennis Center. Tennis is the hook; education is the goal – and for over 20 years 100% of DTEA students who stayed with the program have graduated from high school and gone on to college – most on academic or tennis scholarships.
The crown jewel of the DTEA is the Nowitzki Excellence Team, a group of 24 students who excel in academics and tennis at the highest level. Prior to the Nov. 9 event, students from the DTEA will help pack hundreds of meal boxes for families. The meals will then be distributed to families at the Mark Cuban Heroes Basketball Center.
As Bert Cole, Director of the DTEA, says, "Giving back to the community is a core value of DTEA – so we are thrilled to be participating in the Dirk Nowitzki Foundation Fall Food Drive."
In addition, 100 meals will be delivered to families and senior citizens who reside in the Kiest Park neighborhoods including Cedar Crest, Oak Cliff, Pleasant Grove and southern Dallas.
To learn more about the Dirk Nowitzki Foundation, please visit forty.one/us. For specific questions regarding the event, please contact Scott Tomlin at scott.tomlin@dncompanies.com.