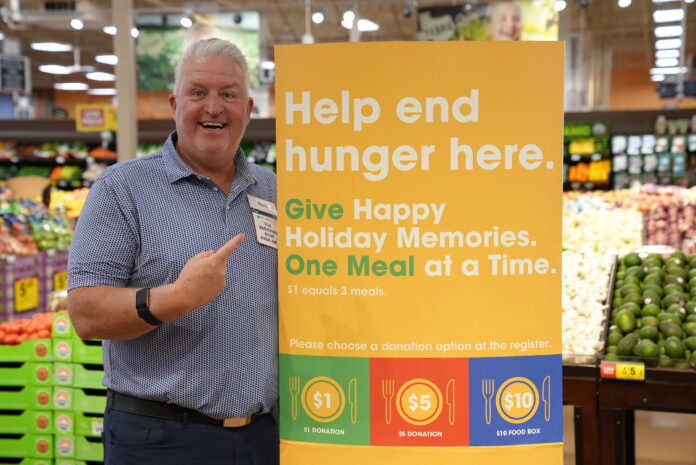 DALLAS –  – Kroger's Dallas Division and The Kroger Co. Zero Hunger Zero Waste Foundation today kicked off the holidays with its 4th annual community hunger campaign, End Hunger Here. The company is aiming to raise $1 million in cash and in-kind donations this year – which translates to 3 million meals, in partnership with five area food banks, including North Texas Food Bank, Tarrant Area Food Bank, East Texas Food Bank, Food Bank of Central Louisiana and Food Bank of Northwest Louisiana.
Beginning Wednesday, November 15 through Sunday, December 24, customers can provide relief to food-insecure families through the End Hunger Here program.  At checkout, shoppers will have the option to make a donation of $1, $5 or $10 that will be added to their total. All donations raised in North Texas, East Texas and Northwest Louisiana will stay in those areas.
"While one in seven people, and one in five kids, are currently experiencing food insecurity in Texas and Louisiana, Kroger's Zero Hunger | Zero Waste social and environmental impact plan is creating millions of meals annually for our neighbors experiencing hunger," said Keith Shoemaker, Kroger Dallas Division president. "Our customers continue to amaze and provide uplift to our communities with their generosity, and we are grateful that they join us in Feeding the Human Spirit again this holiday season to create communities that are free from hunger and waste."
In North Texas, Kroger has partnered with NBC 5/Telemundo 39 to promote the campaign to television viewers. Both NBC 5/Telemundo 39 are committed to fighting hunger in North Texas.
For more information, visit your neighborhood Kroger and ask your cashier how you can help End Hunger Here.
About The Kroger Co.
At Kroger, a company of The Kroger Co. (NYSE: KR), we are Fresh for Everyone™ and dedicated to our Purpose: To Feed the Human Spirit®. We are 13,000 associates in 109 stores who serve customers daily through a seamless shopping experience throughout North Texas to Northwest Louisiana. We are committed to creating #ZeroHungerZeroWaste communities by 2025. To learn more about us, visit our newsroom and investor relations site.