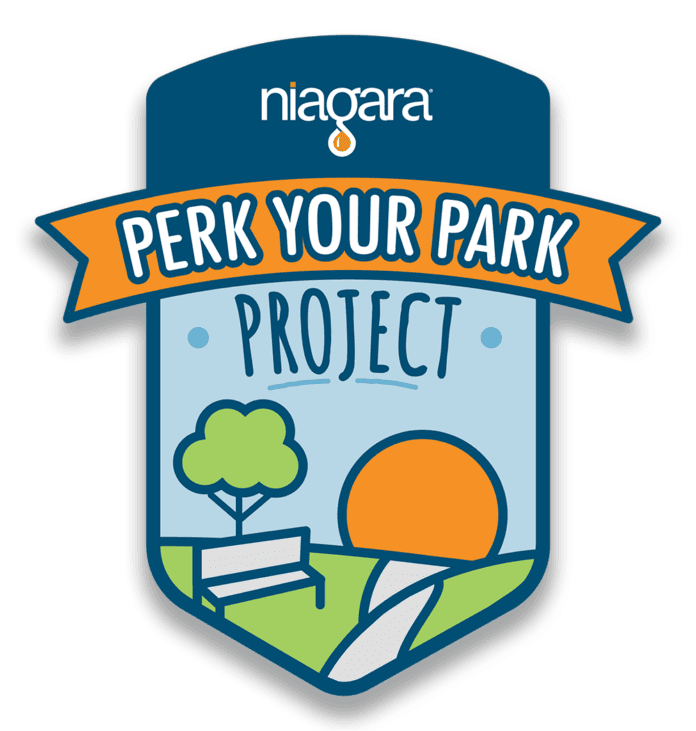 From now until September 18th, YOU can participate in helping your community improve Lancaster City Park (Lancaster, TX) with the opportunity for a $75,000 grant from Niagara Bottling.
So, what would Lancaster do with the grant? They'd like to build a dog park. "The new park will include fencing, a pavilion, new benches, and a pollinator and butterfly garden to welcome our community at the entrance. Help us create a community space for the people of Lancaster and their furry friends!"
The 2023 Niagara Perk Your Park Project is part of the company's ongoing Niagara Cares initiatives to give back to communities – getting children outside to enjoy an educational and fun setting in their neighborhood. With over $2 million given to date since the inception of Perk Your Park, Niagara has been able to renovate and "perk" 17 parks across the U.S.
Niagara Bottling
, the family-run beverage company that has been hydrating America since 1963, in partnership with 
National Recreation and Park Association
 (NRPA), the nation's leading advocate for parks and recreation, is thrilled to announce the nine finalists for the 2023 Perk Your Park Project, and invite members of the public to select their top 
three
 to receive a grant. Each recipient will receive a $75,000 grant toward a park refresh, with endless possibilities! The submission period begins today and will continue through Sept. 18, 2023.
The Niagara Bottling Perk Your Park Project empowers communities to enhance their local parks, creating vibrant outdoor spaces for families to enjoy. By partnering with local municipalities and organizations across the country, Niagara Bottling is committed to investing in sustainable initiatives benefiting the environment and promoting healthier lifestyles.
Since 2016, Niagara Bottling and NRPA have perked 17 parks, giving $2 million in grants to date. Through the Perk Your Park Project, they have made park dreams come true by focusing on improving access to community spaces, nature, and healthy living in under-resourced communities.
Following a nationwide call for park nominations, Niagara and NRPA have selected the following finalists: 
Lancaster City Park, Lancaster, Texas
Phoenix Trail Park, College Park, Ga.  
Las Flores Park, La Verne, Calif.
Fowler Field Park, Douglasville, Ga. 
Rebel Valley Park, Atlanta 
Sara Babb Park, Dallas, Ga.
Max Starcke Park, Seguin, Texas
Woodland Park Nature Preserve, Houston 
Beach City Community Building and Park, Beach City, Texas
"The Perk Your Park Project aligns with our company's commitment to corporate social responsibility and sustainable practices. As an organization, Niagara Bottling is dedicated to environmental stewardship, striving to make a positive difference in the communities we serve. By supporting local parks, we aim to encourage outdoor activities, promote community engagement and create lasting memories for families," said Ann Canela, director of corporate giving for Niagara.
"The Perk Your Park improvement grants symbolize an invitation for all to come together and bring transformative change to their communities," said Ayanna Williams, NRPA director of community and environmental resilience.  "The parks that receive these grants will have lasting impact, so we encourage everyone in these areas and beyond to select their favorite park to be improved. Through their support, everyone can enjoy the outdoors and all the benefits local parks and recreation bring to communities."
Past projects include more accessible trails through nature parks, and the installation of interactive exhibits such as bird blinds and outdoor classrooms. For nearly a decade, Niagara has been perking communal spaces, inviting families to play on upgraded equipment, socialize under new shaded picnic settings, and spend time closer to nature.
How to show your support for the 2023 finalists:
 Submit your entry for your chosen project once per day at NiagaraPerkYourPark.com. 
Complete all required fields on the form, including a valid email, and choose the listed Park you believe should receive a $75,000 charitable grant.  
Complete the entry by agreeing to the Official Rules and submit. 
Polls close Sept. 18, 2023 at 11:59:59 p.m. Pacific time.
Grant recipients will be announced on or after Oct. 20, 2023.
Please visit 
NiagaraPerkYourPark.com
 for more information about the Niagara Perk Your Park Project, discover how to apply, and to view all rules, eligibility and contest guidelines.
The National Recreation and Park Association (NRPA) 
is the leading not-for-profit organization dedicated to building strong, vibrant and resilient communities through the power of parks and recreation. With more than 60,000 members, NRPA advances this vision by investing in and championing the work of park and recreation professionals and advocates — the catalysts for positive change in service of equity, climate-readiness, and overall health and well-being. For more information, visit 
nrpa.org
. For digital access to NRPA's flagship publication, Parks & Recreation, visit 
parksandrecreation.org
.
Niagara Bottling, LLC 
has been family owned and operated since 1963. Headquartered in Diamond Bar, Calif., Niagara operates bottling facilities throughout the U.S. and Mexico. As a leading beverage manufacturer in the U.S., Niagara Bottling works closely with some of the largest beverage brands, retailers, grocers, and club and convenience stores throughout the country. Niagara produces a variety of beverages including bottled water, sparkling, vitamin and flavored water, teas, sports drinks, ready-to-drink coffee, protein drinks, and non-dairy milk products. For more information, visit 
niagarawater.com
.
Niagara Cares
 is the philanthropic arm of Niagara Bottling, LLC, and is the heart of what we do and who we are. We believe in supporting the communities where we live and work through a spirit of giving back in ways both big and small. Making a meaningful difference for our Team Members, consumers and communities through volunteering, product donations, disaster relief and other actions has been our priority for over 60 years. For more information, visit 
niagarawater.com/niagara-cares
.