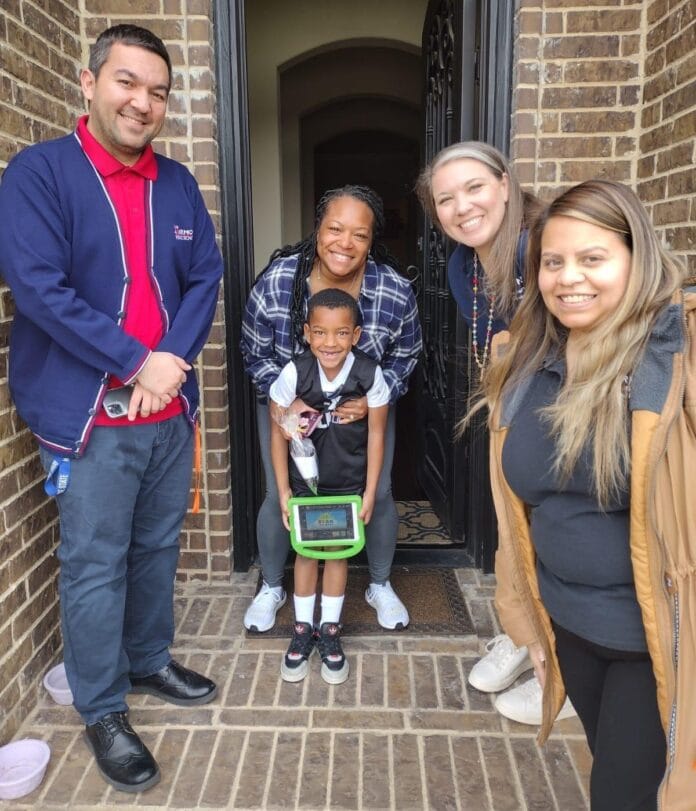 [DALLAS/FORT WORTH/WACO] — Harmony Public Schools-North Texas is proud to announce that it has made approximately 6,258 home visits during the 2022-2023 school year through its Home Visit Program, topping its home visit number of 4,767 from the previous school year.
Among those visits, teachers and staff from Harmony's elementary district visited 3,234 students, while teachers and staff from Harmony's secondary district visited 1,823 students.
Home visits are meetings between a teacher and a student's family, from the teacher's home or classroom to the family's home help parents establish strong relationships with the school and teachers. Often, multiple visits will be made to a student's home throughout the school year.
Home visits have positive effects on student's learning, and social and emotional improvement.
Administrators from Harmony School of Innovation-Euless and Harmony School of Innovation-Grand Prairie on a home visit.
Benefits for students include:
Students whose parents agree to home visits, have better behavior and conduct,
Improved academic performance, student attendance.
A better ease at learning, and trust of their teacher,
Forms a higher level of respect for teachers, themselves and others.
Benefits for parents include:
Parents are secure knowing that teachers genuinely care for the welfare of their children.
Creates a trusting bond between the teacher and parent.
Parents feel confident that their child's future is in the hands of teachers who go beyond the call of duty to guarantee each student's prosperity.
Allows parents to become a part of the school environment.
At Harmony, we don't just provide an education for our students. We prepare them for the real world. As a part of the big picture, Harmony Public Schools aim to produce well-rounded, top tier leaders who go into the world and make a difference. As a part of our North Star, we center our educational backbone on five principles: Preparedness, Future Plans, Problem Solving, Collaboration and Passion.
With these five points, our students graduate at the top of their classes while pursuing a postsecondary educational pathway aligned with their goals.
Harmony's North Texas District offers 17 campuses serving PreK-Grade 12 students in eight North Texas cities, including Dallas, Fort Worth, Carrollton, Euless, Garland, Grand Prairie, Plano and in Waco.
Harmony Public Schools North Texas is currently accepting applications for both students and team members.