Cedar Hill ISD Superintendent Heads to Midland
Cedar Hill ISD Superintendent Orlando Riddick and his family are leaving for Midland this summer. Riddick was named lone finalist for Midland Superintendent May 9, and a final decision to hire him will be handed down May 30.
Riddick served as Cedar Hill's Superintendent for three years, starting in April, 2014. At the time Cedar Hill ISD had been without a full-time superintendent for almost a year. He replaced interim superintendent Ann Dixon after the 2013 resignation of Horace Williams. The superintendent's salary was listed as $206,700.
At the time of Riddick's hiring, school board trustee Michael Quildon said the board was impressed by his credentials and his "outside-the-box" way of thinking. With a bachelor's degree in public relations from UT-El Paso, Riddick earned a master's in education administration from TWU in 2004. He was a teacher and English department chair at Dallas ISD, an assistant principal for Fort Worth and San Antonio school districts, and principal at W. T. White High School. He was also director of high schools for Austin ISD, recruited by Cedar Hill from Houston ISD where he was assistant superintendent, Career and College Readiness.
Quildon (now CHISD board president) said, "I definitely wish Riddick and his family well in their next endeavor. He did a great job for us, and accomplished a lot of great things for us. He implemented a college readiness program and helped lead four under-performing campuses to achieve better status. He started an All-Pro Dad's mentoring program, and helped guide us to become a Science, Technology, Engineering, Arts and Mathematics district."
Quildon said the board hopes to hire an interim superintendent by mid-June. Their next steps will be to hire a search firm or individual consultant to identify candidates for our new superintendent.
Riddick Starts July 1 as Midland Superintendent With Enrollment of 24,000 Students
Riddick will take over as Midland Superintendent from Interim Superintendent Rod Schroder July 1. The Midland district is three times as large as Cedar Hill, with about 24,000 students and 3,000 employees.
Riddick said, "It's been fabulous to work with this Cedar Hill community. It's a strong, faith-based community with a great business environment and civic leaders. Everyone has been so supportive of our efforts here. I am excited for the person who comes in after me, and look forward to hearing about the future achievements of this district and community."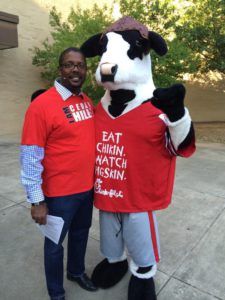 Orlando and Yvette Riddick have three children. Alejandra is a Cedar Hill High School graduate now attending Texas State College. Diego is a graduating senior at Cedar Hill, and will attend the University of Texas at Arlington. Aaron will be a sophomore student in Midland.
Riddick said he is looking forward to implementing his mentoring and "no excuses" philosophies in Midland. He said his wife is "nervously anticipating the move, with all the changes involved in becoming acquainted with new neighbors and parents. But Yvette has done a beautiful job of nurturing the kids during all our transitions."