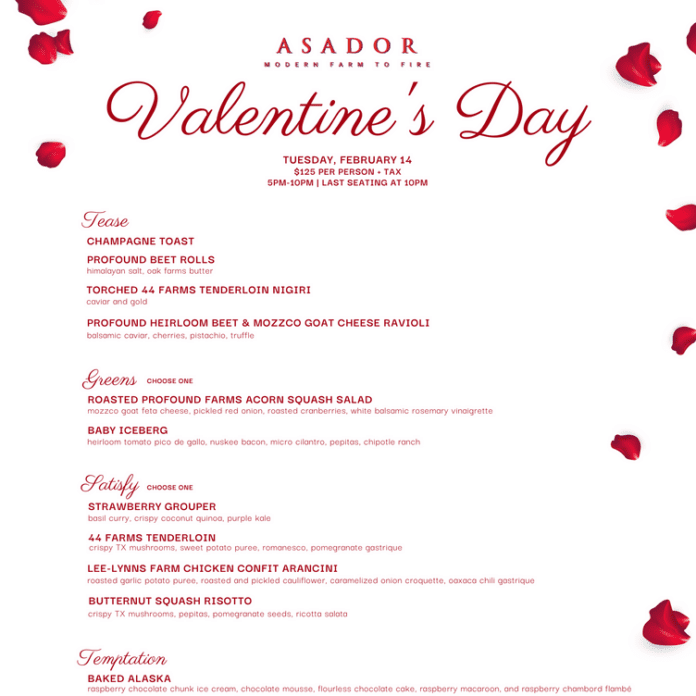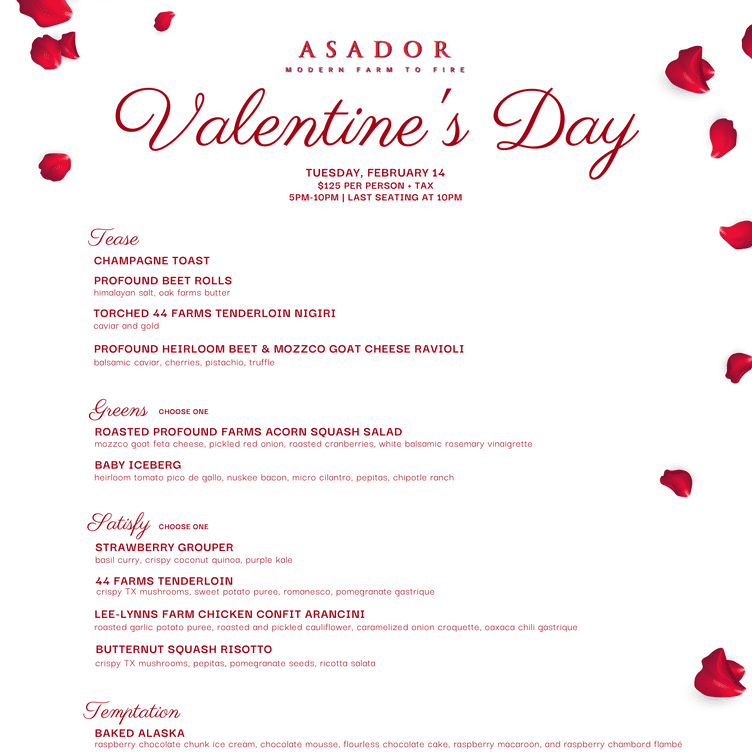 Asador, the farm-to-fire restaurant located inside the Renaissance Hotel in downtown Dallas, is celebrating the season of love by hosting a romantic Valentine's Day dinner on Tuesday, February 14th. Sweethearts can indulge and enjoy a special, Valentine's Day menu, handcrafted by Chef Fernando Cardona.
The Valentine's Day dinner and menu will be available on Valentine's Day only from 5:00 p.m. to 10:00 p.m and will include unique menu items such as:
PROFOUND BEET ROLLS himalayan salt, oak farms butter
TORCHED 44 FARMS TENDERLOIN NIGIRI caviar and gold
PROFOUND HEIRLOOM BEET & MOZZCO GOAT CHEESE RAVIOLI balsamic caviar, cherries, pistachio, truffle
ROASTED PROFOUND FARMS ACORN SQUASH SALAD mozzco goat feta cheese, pickled red onion, roasted cranberries, white balsamic rosemary vinaigrette
BABY ICEBERG heirloom tomato pico de gallo, nuskee bacon, micro cilantro, pepitas, chipotle ranch
STRAWBERRY GROUPER basil curry, crispy coconut quinoa, purple kale
44 FARMS TENDERLOIN roasted garlic potato puree, roasted and pickled cauliflower, caramelized onion croquette, oaxaca chili gastrique
LEE-LYNNS FARM CHICKEN CONFIT ARANCINI crispy TX mushrooms, sweet potato puree, romanesco, pomegranate gastrique
BUTTERNUT SQUASH RISOTTO crispy TX mushrooms, pepitas, pomegranate seeds, ricotta salata
BAKED ALASKA raspberry chocolate chunk ice cream, chocolate mousse, flourless chocolate cake, raspberry macaroon, and raspberry chambord flambe
CHOCOLATE COVERED STRAWBERRIES
Join Asador Dallas on Valentine's Day to celebrate the season of love. The dinner will cost $125 per person (plus taxes) and the final seating will be at 10:00 p.m.
WHAT:                        Valentine's Day Dinner at Asador Dallas
WHEN:                                Tuesday, February 14th, 2023
5:00 p.m. to 10:00 p.m.
Last seating at 10:00p.m.
WHERE: Asador Dallas (Renaissance Dallas Hotel)
2222 N. Stemmons Freeway
Dallas, TX 75207
PRICE:                            $125 per person + taxes
RESERVATIONS:Call 214.267.4815 or visit the link for reservations.
*Reservations are based upon availability 
ABOUT: Asador restaurant, joined by Executive Chef Joe Graffeo and Chef Fernando Cardona, creates a uniquely North Texas culinary experience by combining local Dallas flavors with modern farm fare over an open flame.