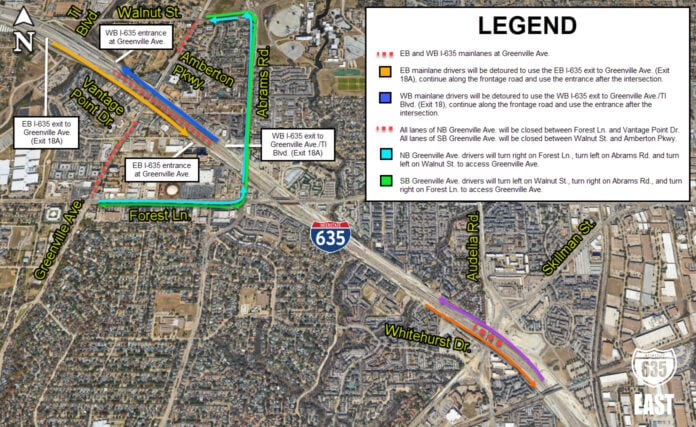 Includes overnight closure of all I-635 mainlanes and overpass bridge
DALLAS – All lanes along eastbound and westbound I-635 at Greenville Avenue will be closed beginning Saturday evening, May 20 through Sunday morning, May 21. Drivers will be detoured to the frontage road to access the next available entrance ramp onto the mainlanes. (Refer to exhibit below)
Both directions of Greenville at I-635 will also be closed, detouring northbound and southbound traffic through the alternate streets: Forest Ln., Abrams Rd., Walnut St. and Greenville Ave.
During this time the following closures will also be performed:
U.S. 75 entrance ramp to eastbound I-635 – Drivers will follow posted detours leading to the frontage road.
All lanes along eastbound I-635 TEXpress Lanes at Coit Road – Drivers will be required to exit from the TEXpress lanes to the general purpose lanes at Coit.
All lanes along Markville Drive at Greenville Avenue – Drivers will have access along the I-635 frontage road.
Drivers should expect delays, seek alternate routes or plan for extra travel time. All scheduled work and closures are subject to weather or other unforeseen circumstances. The public can sign up for traffic alerts to stay informed about lane closures, traffic changes and construction progress by visiting this link: https://635east.com/receive/.
For additional information related to the 635 East Project, visit www.635east.com.