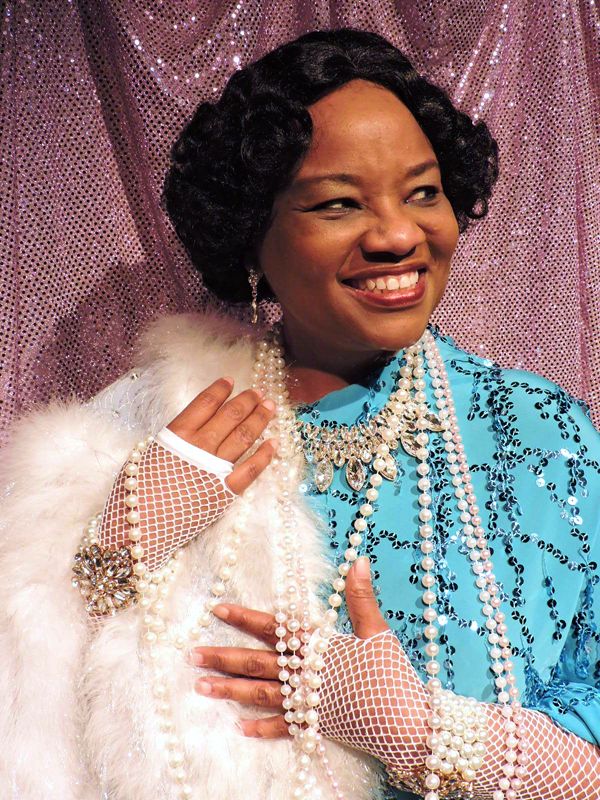 In a lonely hotel room, Janis Joplin, a rock 'n' roll star on the skids, is visited by the spirit of her idol, Bessie Smith. Hearts and souls are opened wide in a tale filled with music and yearning in The Empress, The Lady and The Pearl, Part One; The Empress and The Pearl.
This world premiere production is written by celebrated local playwright Dianne Tucker and stars Dallas favorite Denise Lee as Bessie Smith with Marisa Diotalevi as Janis Joplin. The Empress and The Pearl is directed by T3 Acting Artistic Director Bruce R. Coleman with music direction by Geno Young.
Both legends in their own right, these two infamous singers made their mark on music history. Bessie Smith defied odds by becoming the highest-paid black performer in the 1920's, earning the title, "Empress of the Blues," and, Janis Joplin became known as "The Pearl" when her second album, entitled Pearl, was released following her tragic drug overdose.
Theatre Too (T3's downstairs studio theatre) is located in the basement of Theatre Three in the Dallas Quadrangle. Single tickets range from $35-40 and are on sale online at Theatre3Dallas.com or by calling 214-872-3300. Various discounts are available for seniors, groups of 10 or more, or students.
***
Dallas Theater Center's world-premiere of "Deferred Action," a co-production with Cara Mía Theatre Co. directed by Cara Mía's Artistic Director David Lozano. "Deferred Action" features company members from both DTC and Cara Mía.
The play begins previews with a Pay-WhatYou-Can performance on Wednesday, April 20, and will run through Saturday, May 14. Press Opening will be Friday, April 29 at 8 p.m. Tickets to Deferred Action are on sale now at www.DallasTheaterCenter.org and by phone at (214) 8800202.
"It is a joy for all of us at DTC to collaborate with artists from the dynamic and inspiring Cara Mía Theatre Co.," said DTC Artistic Director Kevin Moriarty. "David Lozano is as smart and passionate about politics as he is about making theater. Deferred Action speaks to our current world of electoral politics in ways that are more powerful and surprising than we could have imagined several years ago when we first started creating this play. David and Lee have created an original story that reflects the choices facing us in this election cycle: to seek immediate change whatever the cost, or to compromise and delay while working within the system. When the stakes are literally life and death – as they are for many undocumented people living in the United States – American politics isn't just a game or a reality TV show, but rather either a hopeful path forward or a heartbreaking setback for their families and our own understanding of 'liberty and justice for all.'"
Written by Lozano and DTC's Director of New Play Development Lee Trull, Deferred Action is a new play introducing audiences to Javier Mejía, one of the immigrants known as "Dreamers" who arrived in the U.S. as an undocumented minor. Now, after years in the States, he finds himself caught in the tangle of existing immigration laws, new presidential policies, and the harsh reality of living in the shadows. With hopes that temporary administrative mechanisms like Deferred Action will be the answer to their dilemma, Deferred Action follows the lives, loopholes, and dangers of those who dare to dream. Democrats. Republicans. Activism. Politics. It's all just another border to cross.
"It's a great honor to be a part of developing Deferred Action," said Lozano. "Cara Mía's productions stir dialogue within our community and I am excited to partner with Dallas Theater Center to bring a play that speaks to the heart of issues that directly impacts our Latino community. This play gives both of our theatres and our audiences the opportunity to talk about what I think is the civil rights issue of our times – immigration reform for undocumented immigrants who need basic human rights while living in this country."
Cara Mía's Artistic Ensemble member Ivan Jasso will play the role of Javier Mejía, alongside fellow ensemble members Frida Espinosa Müller as Abue, Stephanie Cleghorn Jasso as Ximena, and Rodney Garza as Carrasquillo.
Brierley Resident Acting Company members Chamblee Ferguson will play the role of Jim, with Brandon Potter as Jerry, Christie Vela as Nancy Rodriguez, and Steven Michael Walters as Dale Jenkins. Additional cast members are Elizabeth Ramos as Lisa and Arturo Soria as Robby. Set designer is Timothy R. Mackabee, costume designer Niki Hernandez-Adams, sound designer Aaron Mecht, lighting designer Clifton Taylor, projection designer Caite Hevner Kemp, and wig designer Valerie Gladstone.
DTC's Come Early sponsored by Wells Fargo will take place one hour before every performance and DTC's Stay Late presented by Dr Pepper Snapple will take place after each performance.