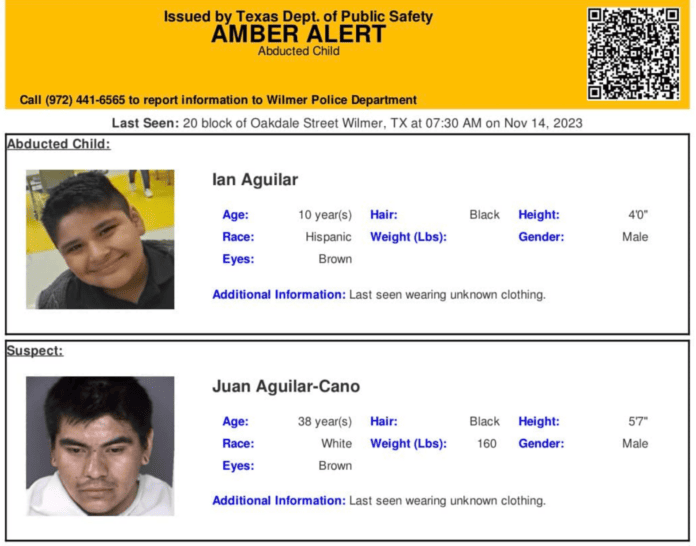 Wilmer- The Amber Alert issued on Tuesday for 10-year-old Ian Aguilar remains active, with Police looking for the boy's father,  38-year-old Juan Aguilar-Cano. Police say the father is now also a suspect in the murder of the boy's mother, Zoleika Arzate, 48. Wilmer Police discovered the mother's body inside the mobile home after performing a welfare check.
While the suspect's tan Chevy Tahoe was located in Houston, the boy, Ian Aguilar, and the suspect are still missing. Ian Aguilar is described as 4 feet tall, with brown eyes and black hair. He was last seen at 7:30 a.m. Tuesday on the 20th block of Oakdale Street.
The Wilmer Police Department is asking the public to contact them with all information about the investigation.
The homicide is being investigated by the Dallas County Sheriff's Department because the Wilmer Police Department does not have a Homicide Detective on staff.
Law enforcement believes Ian is in grave or immediate danger.
Anyone with information on Ian's whereabouts is asked to contact the Wilmer Police Department at (972)441-6565. If anyone has information about the homicide investigation, contact the Dallas County Public Information Office at sheriffmedia@dallascounty.org.