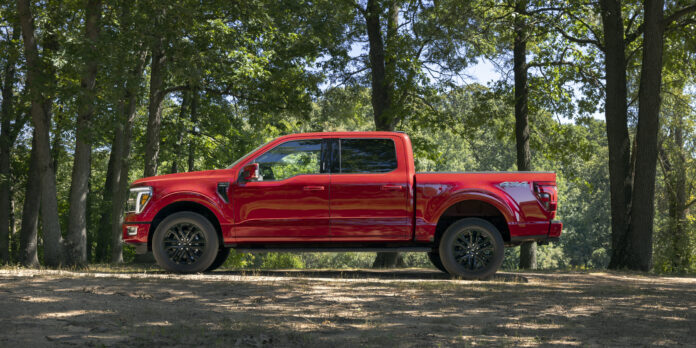 "If they start as better ideas, they stay better ideas," reads the headline of a 1966 Ford print ad showcasing four inventions, including a dual-action tailgate – a forerunner of the modern-day truck tailgate that now features handles, steps and work surfaces.
That headline also works as a rallying cry for the F-Series truck team, which for more than 75 years has delivered a lineup of tough, smart and capable trucks – the last 46 as the best-selling truck lineup in America.
The latest Ford better idea: the new 2024 Ford F-150® truck. Available starting early 2024, the truck is designed to enhance the ability to tackle challenges with purposeful features and tech. It has Built Ford Tough® capability to handle tough pursuits. And it has a tough new design, including the new available Pro Access Tailgate for even more access and utility.
With increased production of PowerBoost™ Hybrid for 2024, trims from XL through Platinum Plus, and off-road ready models like Tremor, Raptor and Raptor R, there's an F-150 for almost every use case.
All that choice is important because F-150 is a leader in all the following industries: construction, government, utility services, agriculture, landscaping, road and highway maintenance, emergency vehicles and mining.
Power To Get Things Done 
• New standard engine: Popular, powerful, efficient 2.7-liter EcoBoost® increases horsepower and torque on base offering
• Power of Choice: Including a 2.7-liter EcoBoost, 3.5-liter EcoBoost, 3.5-liter PowerBoost, 3.5-liter High Output (F-150® Raptor®), 5.0-liter V8, 5.2-liter supercharged V8 (F-150® Raptor R®)
• Horsepower and torque: Remain strong and optimized across the lineup
Built Ford Tough Capability

The foundation for F-150 is a fully boxed high-strength steel frame with a high-strength, military-grade, aluminum alloy body, allowing customers best-in-class available payload and max towing capability.
Since its introduction in 2021, the platform underpinning this truck has undergone more than 3.75 million customer equivalent miles of Built Ford Tough durability testing in labs, at proving grounds and in some of the harshest real-world conditions in North America. The truck is tested to the extremes – hot and cold, gravel, off-road and for long distances, at full payload and max towing.
But being tough isn't all about the physical characteristics. This truck is smart. It has offerings allowing it to export electric power to help keep job site tools running; aid both novice and veteran towers to line up and hitch their trailers; provide hands-free highway driving using Ford BlueCruise on end-of-day commutes after a long day of work; and provide a tailgate with optimized access.
Many of these productivity-boosting digital features are made possible because of a class-exclusive 5G LTE modem that enables faster mapping, Wi-Fi and Ford Power-Up software updates if a customer sets their automatic software updates setting to "ON." Customers can also use their SYNC 4 digital system to submit voice feedback on functionality or improvements for their F-150.
This improved connectivity enables a more seamless transfer of in-vehicle data to FordPass® and Ford Pro™ Telematics, a cloud-based platform that uses vehicle data to give fleet managers access to valuable insights to help accelerate productivity and fleet uptime.
"Built Ford Tough is more than a motto; it's our promise to always strive for more and never rest for F-150 owners. We see it as our duty to deliver what our customers want and need and what they never thought possible." – John Emmert, Ford truck general manager
Towing
13,500 pounds
Best-in-class maximum available towing capacity
Payload
2,455 pounds
Best-in-class maximum available payload
Pro Power Onboard
Available 7.2kW on PowerBoost®-equipped trucks
The most exportable power on demand of any gas-powered pickup in its class
Growing Hybrid Leadership
Ford truck leadership also includes hybrid trucks. Through the first half of 2023, Ford F-150® is the best-selling full-hybrid pickup truck. Ford hybrid truck sales are up 28.1 percent in the first half of 2023.
Right now, 10 percent of all F-150 trucks sold are hybrids. Ford plans to double the mix of hybrid trucks manufactured for the 2024 model year to give even more customers access to this advanced technology. By the end of 2024, Ford aims to make F-150 PowerBoost one of the top-selling hybrids in America.
And the initial starting MSRP on PowerBoost® Hybrid, available on XLT through Platinum Plus will now match the starting MSRP on the 3.5-liter EcoBoost® engine.
Cost parity means customers will no longer need to grapple with paying a premium price just to have the benefits of a hybrid powertrain: a maximum available 430 horsepower and 570 lb.-ft. of torque – the most on any F-Series vehicle outside Raptor and Raptor R – and standard 2.4kW of Pro Power Onboard (with the option to upgrade to 7.2kW). All while getting the same Built Ford Tough durability, capability and reliability as other F-150 series vehicles.
"We're making hybrid more accessible to our customers, giving them the power of choice by offering it as the same price as the 3.5-liter EcoBoost. This is the latest example of Ford democratizing technology for all truck customers. We did it with EcoBoost engines and with high-strength, military-grade aluminum alloy bodies for greater capability, and now we're doing it with PowerBoost Hybrid." – Andrew Frick, vice president, Sales and Trucks, Ford Blue
Pro Power Onboard
The industry-first and class-exclusive Pro Power Onboard feature is regularly cited by Ford customers as one of the most desired.
Used in past Texas winter storms by dealers and customers, Pro Power Onboard charged personal devices through the many available plugs in both the bed and cabin and allowed owners to run extension cords to critical household appliances such as refrigerators, Wi-Fi connections, or space heaters.
One Ford employee even used it to save a friend's wedding by powering the band's speakers during the reception, and a customer who worked backstage for a band used Pro Power Onboard to save a concert by powering speakers during a power outage.
More regularly, the feature helps to keep tools charged and ready at construction sites and power tailgates at sporting events.
An updated digital interface will help customers keep track of available power better, either through the SYNC® 4 screen or the FordPass® app.
Pro Power Onboard Power Levels 
2.0kW
Available on gas trucks, 2.0kW can comfortably power a football tailgate complete with a television, speaker, blender, mini fridge, and electric heater
2.4kW
Standard for all PowerBoost® hybrid equipped trucks, this inverter works to give equipped vehicles a maximum of 85 hours of runtime with a full tank of gasoline – plenty of time for carpentry, masonry, or even hosting a drive-in movie theater
7.2kW
Top power option on PowerBoost hybrid equipped trucks – chosen by nearly 3 in 4 PowerBoost customers – can comfortably supply power to a framing crew, mobile metal/welding shop, or dirt-bike mobile shop for 32 hours straight
Purposeful Tech

The F-150® pickup has always been about getting the job done in the smartest way possible. The new model is the most connected and the smartest F-150 engineered to date. It starts with 10 standard driver-assist features, including the latest versions of Pre-Collision Assist with Automatic Emergency Braking, Lane Keeping System and Blind Spot Information System with Cross-Traffic Alert.
Customers have access to more available driver assist technology across all F-150 models and trim levels, including in-demand features like Ford BlueCruise and a 360-degree camera.
Available Exit Warning is designed to help alert occupants exiting the vehicle to approaching detected traffic from behind, including vehicles, pedestrians, and cyclists.
The 2024 model will help customers enhance their productivity in a variety of ways with advanced driver-assist features like Pro Trailer Backup Assist™ and Pro Trailer Hitch Assist™.
Pro Trailer Hitch Assist
To improve productivity, Pro Trailer Hitch Assist takes the frustration out of hitching a trailer by using the rear camera and corner radars to align the hitch with the trailer coupler while simultaneously controlling the truck's speed, steering, and braking to stop at just the right place all at the touch of a button.
Pro Trailer Backup Assist  
After a short set-up, Pro Trailer Backup Assist feature allows the camera to track the trailer position while the driver backs up and guides the trailer, rotating the knob left or right in the direction the trailer needs to go, and the system controls the steering wheel.
Onboard Scales with Smart Hitch 
Class-exclusive available Smart Hitch measures tongue weight to help customers properly hitch up and help reduce the possibility of trailer sway when towing. When combined with Onboard Scales, it helps estimate approximate payload weight in real-time. Weight can be viewed through the Ford SYNC® 4 touchscreen or LED visual display in the taillamps.
Ford BlueCruise 
Ford is changing the way we offer Ford BlueCruise to F-150 customers. Now, F-150 customers can access hands-free highway driving at any point during the ownership journey – at vehicle purchase or after experiencing it during a 90-day complimentary trial, and then choosing to activate it either on an annual or monthly basis to fit their needs.
Customers of the 2024 F-150 will experience Ford BlueCruise 1.2, which allows for new capabilities like Lane Change Assist – which can perform a hands-free lane change at the tap of the turn signal – and In-Lane Repositioning to help adjust the vehicle's position by subtly shifting away from vehicles in adjacent lanes, such as large semi-trucks, for instance.
Enhanced Digital Experiences
SYNC 4 with a 12-inch LCD capacitive touchscreen is now standard across the lineup and complements a standard 12-inch cluster screen behind the steering wheel in delivering helpful information to the driver.
A 12-inch cluster screen features truck-specific graphics and animations that respond to the selectable drive modes and can display off-roading data and turn-by-turn navigation. New for 2024, F-150® Raptor® and F-150 series vehicles can display two views simultaneously in Tow/Haul, Off-Road, and Rock Crawl Drive Modes.
An even easier information delivery method comes in the form of an available Head-Up Display* offered on F-150 for the first time. Included in both Head-Up Display and the cluster are custom views for Ford BlueCruise, Tow/Haul, and Off-Road Drive Modes.
The 2024 F-150 will be the first Ford vehicle available in North America with Ford Stolen Vehicle Services – a connected service that can help locate and aid recovery of a Ford owner's stolen vehicle, if a customer opts in to activate it, by using location data directly from the vehicle, giving further peace of mind and security to owners.
Ford SVS provides vehicle security by alerting the customer if someone has gained unauthorized access to the vehicle, such as any attempt to access, tow or tamper with the truck. Ford owners can choose to act in the FordPass® app if something is not right and report the vehicle as stolen with the help of the 24/7 Ford Stolen Vehicle Services Call Center. Once reported, local authorities can help locate and recover the vehicle with the help of the call center, and the owner will be updated along the way.
A Century of Tailgate Innovation

The invention of the dual access tailgate nearly six decades ago wasn't even the start of Ford's tailgate prowess. Ford has innovated the tailgate since the Model A.
In trucks, to help make the bed easier to access for customers, Ford introduced a fold-down tailgate step in 2008. Then, Ford added a handle that retracts into the tailgate for added stability.
Most recently, customers got access to a power up/down tailgate with work surface featuring integrated rulers, a place to set a mobile device, and a pencil and cup holder. It's practically a fold-out desk deployable at the work site.
For the 2024 model year, customers can choose to more easily access the Ford F-150® truck bed after Ford widened the step cut-out and increased bumper depth to create the best tailgate experience yet: Pro Access Tailgate. (Customers can also choose to stick with a classic tailgate.)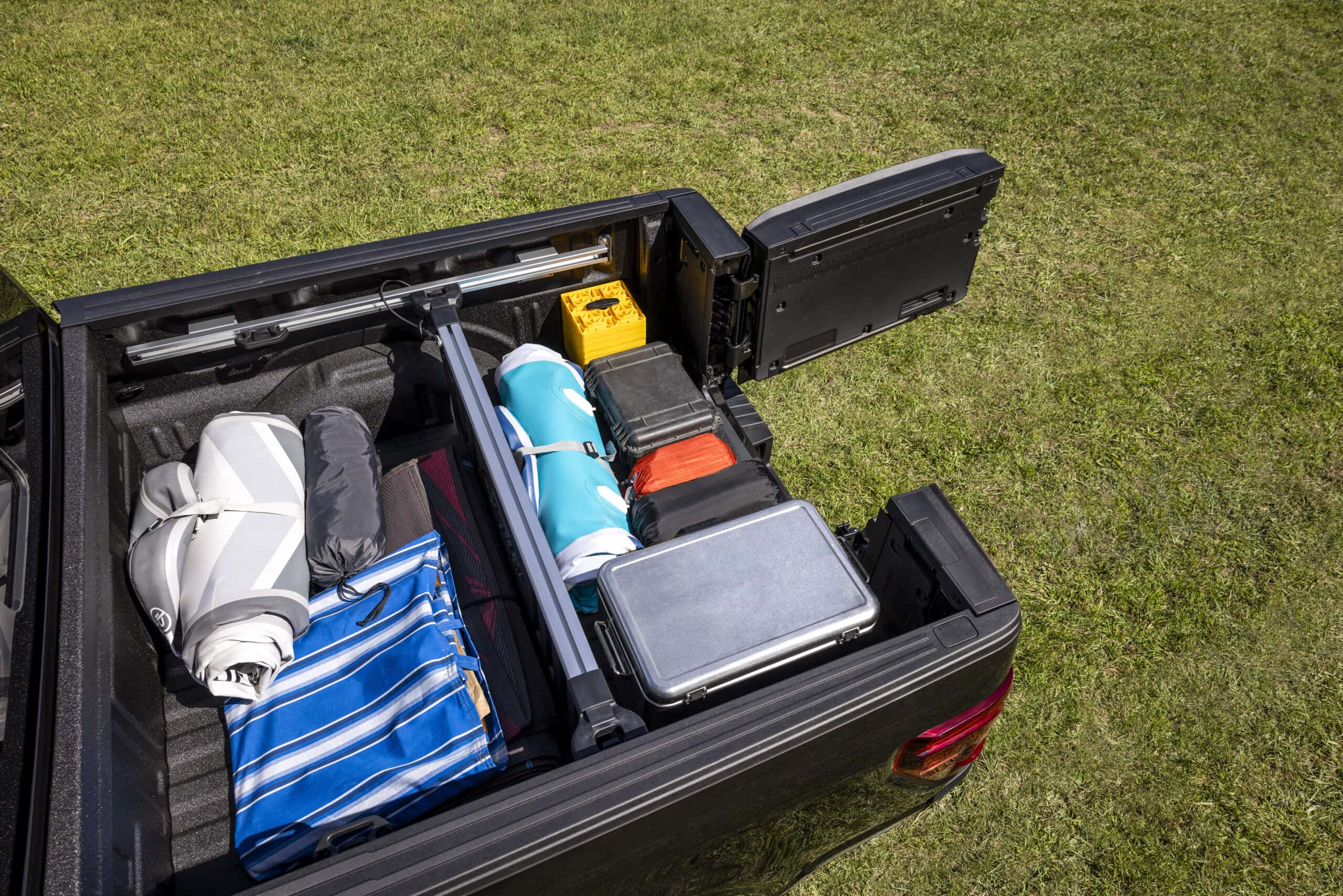 Here's how it works:
The F-150 with available Pro Access Tailgate is the only pickup in its class to offer a 100-degree fully opened integrated swing gate. Opening from the driver's side, this solution reduces walking distance to the tailgate handle, facilitates operation when towing, and even features a specially designed integrated handle for easy entry and exit of the swing door opening.
The swinging door has built-in stops thanks to the use of detents, or devices to position and hold parts in place, in the door's internal mechanism, which help avoid banging the door into the trailer jack, offering a seamless user experience even when towing.
Rather than having to stretch uncomfortably into the bed to move items, the Pro Access Tailgate ensures that more items in the bed are within an arm's reach, allowing for 19 inches of additional reach, as compared to a conventional tailgate in the 'down' position, for easy access for item retrieval and storage.
Customers will have even quicker access to bed lighting, storage boxes and cargo, Pro Power Onboard and more, enabling increased productivity on worksites and homelife.
The new Pro Access Tailgate available on the 2024 Ford F-150® pickup has gone through rigorous durability testing.
"Pro Access Tailgate is a game changer for our customers that dramatically improves and reinvents the customer experience, meaning less time crawling in and out of the bed, and a much larger cargo area accessible directly from the back of the truck." — Alana Strager, F-150 program manager
Pro Access Tailgate Opening Positions 
37 degrees
A good opening angle that avoids the trailer jack while still providing enough room to access the bed
70 degrees
Allows for more bed access in close quarters without swinging the door open all the way
100 degrees
Maximizes door opening at a class-best level for easier loading and unloading
An available rear bumper step, with added width and depth for the Pro Access Tailgate, is also included in some configurations of this new design for secure and solid footing when entering the bed.
Users can open the simple single-door design with one hand or can open (or close) the entire tailgate using the key fob's electronic release. Either way, users are ensured easy access, even if they're juggling a stack of items in one hand.
Ford engineers also worked to help ensure Pro Access Tailgate works in tandem with many available bed accessories, such as bed dividers and tonneau covers, to provide a fully functional 'trunk' for the vehicle.
Bed Storage Box

With easier access to the bed, customers also get more functionality with a new bed storage box located behind one or both rear wheel wells.
This addition provides a central location with heavy-duty locking mechanism for added security of smaller tools and accessories – such as tie-down straps, bungee cords, chains, jumper cables, basic emergency tools, safety glasses, work gloves or flashlights.
With easy access from the swing gate, tools and components are within arm's reach – even without opening the tailgate.
The bed storage box is standard across the F-150 lineup and located on the right-side corner of the pickup bed. Customers who don't select Pro Power Onboard™ will get an additional storage box on the left-side of the pickup bed as standard with 5.5-ft. and 6.5-ft. boxes.
F-150 Tremor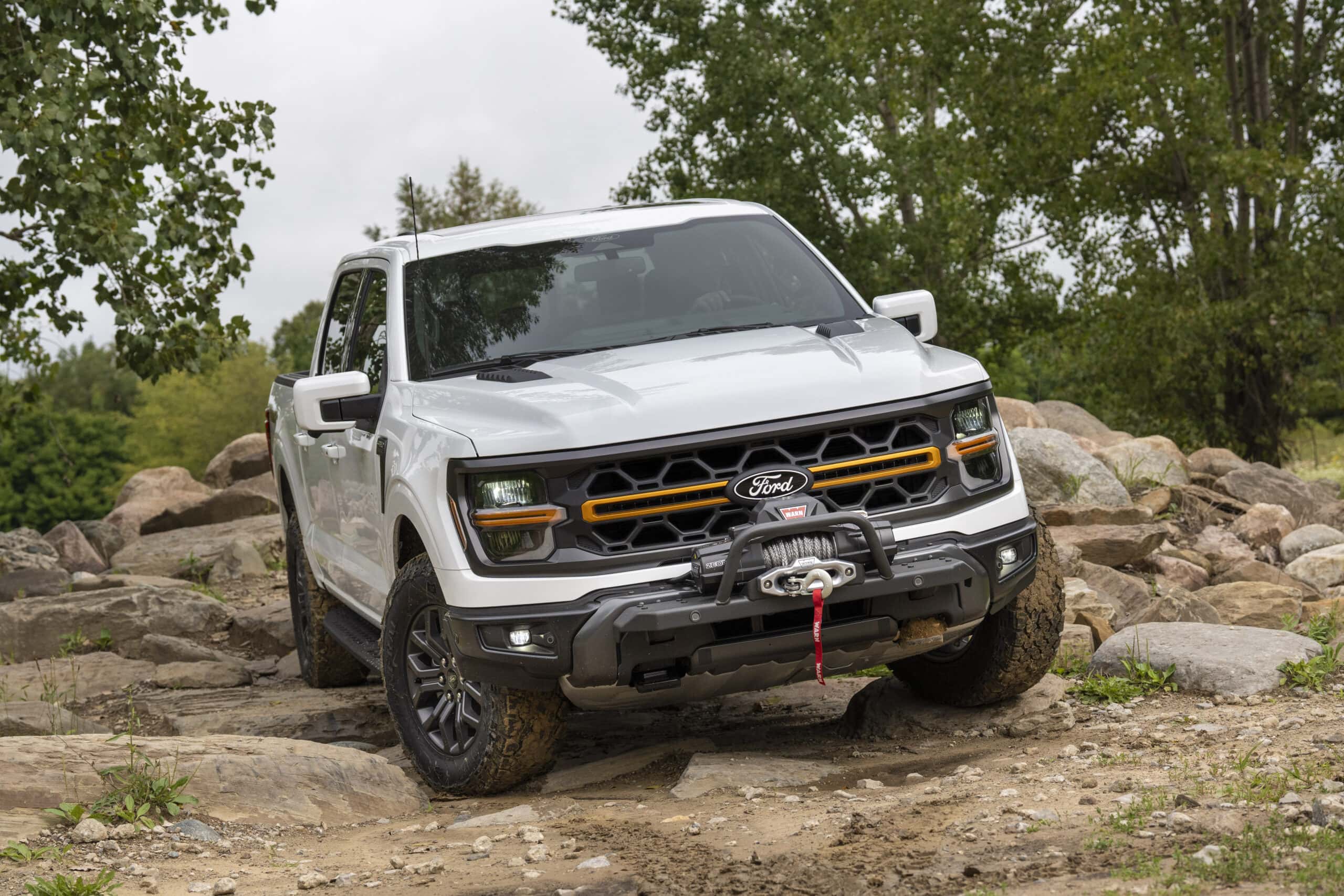 The Ford F-150® Tremor™ is designed and engineered for customers seeking a purpose-built off-roading vehicle that maintains all the truck functionality of F-150. This vehicle is the result of watching how customers use their trucks for life in the cornfields, on dusty two-tracks, in muddy bogs and on rock-strewn trails.
New for 2024 is an optional modular front bumper finished in a combination of Tarnished Dark Anodized and Carbon Black colors for aggressive front-end styling.
Paired with the Tremor-unique coast-to-coast grille, this new optional bumper increases off-road styling. It also facilitates installation of accessories for even more customization options and capability.
A light bar designed for increased visibility area is available to order, and a dealer-installed Ford Performance Winch Kit, with a WARN 12,000-pound winch, developed by Ford engineering, along with a brush guard is also available.
The Vehicle Personalization team is working to offer more accessories in the near future.
The front clip, which includes all body panels from the side mirrors forward, has been given a unique Tremor treatment, specifically designed for the vehicle, to add distinctive style. You'll find specially designed Tremor design elements like:
o Tremor Box Side Decal
o Coast-to-coast grille with Tremor Active Orange Accents
o Unique Tremor Style Running Boards
o Details such as accent stitching, decorative finishes, and floor mats embody the essence of the exterior design.
By listening to customers, Ford off-roading veterans created a truck that would handle their demanding lifestyle and deliver increased traditional off-roading capability compared to other F-150 models – but not quite a desert racer like Raptor.
F-150 Raptor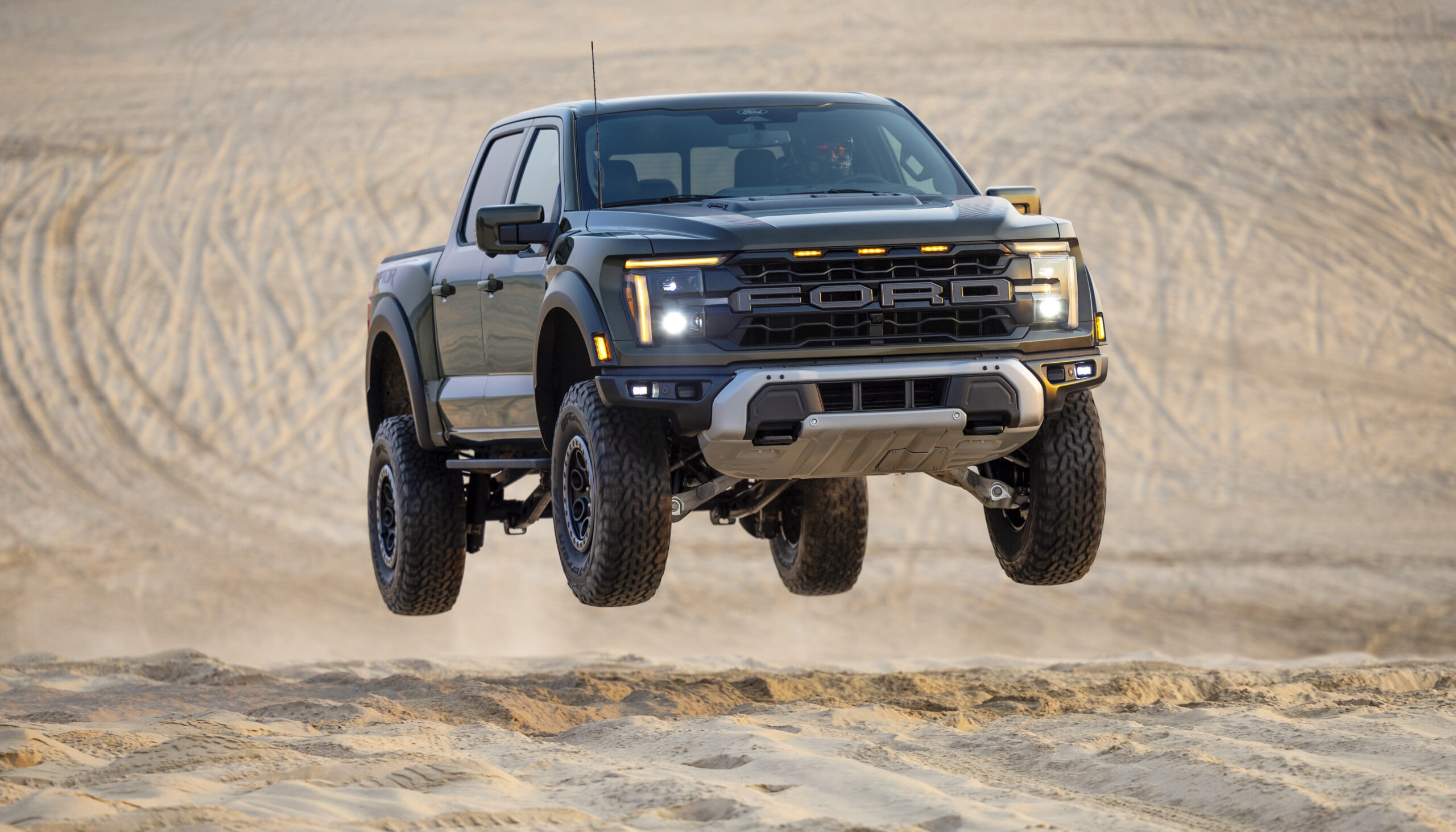 The 2024 F-150 Raptor boasts new FOX Dual Live Valve shocks to provide a more confident, controlled riding experience. Now, with position-sensitive compression control standard, new continuously variable rebound controls work to further enhance both off-road and on-road driving thanks to Dual Live Valve technology. With the success of FOX Live Valve shock technology launched on F-150 Raptor in the 2019 model year, this is the natural evolution of the technology to add even more capability to Raptor's already impressive suspension system.
This new rebound control functionality allows greater possibilities to adapt damping to match body control to the off-road environment via Ford Performance-developed off-road algorithms.
Like the Live Valve shocks, still available on some F-150 Raptor configurations, these Dual Live Valve shocks feature high-tech Ford Performance-designed off-road algorithms owned and used exclusively by Ford. Electronic suspension controls and Ford algorithms adjust hundreds of times a second, adapting response to the ever-changing terrain.
The Dual Live Valve shocks perfectly complement the five-link rear suspension system launched on Raptor in 2021, representing truly superb off-road capability and delivering excellent lateral stability and traction. The five-link rear suspension features extra-long trailing arms to better maintain axle position on rough terrain, a Panhard rod and 24-inch coil springs – all optimized for outstanding stability while aggressively traversing desert terrain.
Looking at the outside of the vehicle, Ford Performance engineers designed the new modular front bumper to be an accessory-capable solution. For this addition, available on Raptor series vehicles with 37-inch tires, Ford engineers have modified the bumper end caps to expose more front tire compared to the traditional bumper offering – adding to the aggressive styling of Raptor and allowing for more capability in rough terrain compared to the non-modular Raptor bumper. A light bar attachment is available for Raptor vehicles equipped with the modular front bumper to illuminate terrain in dark conditions.
Standard forged tow hooks at the front, much wider than the non-modular bumper offering, offer strong attachment points if drivers need to rescue non-Raptor vehicles while off-roading. A wide blackout grille treatment with new headlamps adds even more aggressive styling to Raptor.
Off-road technologies that enable Raptor to conquer difficult terrain include:
Terrain Management System with seven selectable drive modes
Standard Trail Control acts like cruise control for low-speed driving
Available One-Pedal Drive
Raptor R also features a unique Power Dome on the hood to add aggressive styling to the vehicle, giving the truck an unmistakable appearance to match its incredible off-road performance.
Raptor comes with new colors and materials to add a rugged look and style to the vehicle. Shelter Green, a new exterior color for 2024 and unique to Raptor, blends perfectly into forested backgrounds while standing out in desert environments for a vehicle whose looks match its performance.
New symmetrical hood graphics are available, with one new graphic available for both V6 and V8 models, along with "Raptor" graphics above wheel lip molding with a body side graphic below each. A blackout tape micro-texture paired with Code Orange coloring creates an unforgettable paint scheme.
For Raptor R, "Raptor" graphics above the wheel lip molding are featured, along with a box side graphic on each side of the vehicle. Raptor R also features a specially designed hood graphic with two front fender emblems. The blackout tape micro-texture paired with Code Orange coloring and Carbonized Gray for Raptor R works to create a vivid, bright color scheme that's unmistakably Raptor.
New Built Ford Tough Design

The classic grille and front-end design featured in premium Ford F-150® models such as Lariat® and Platinum have been specially re-designed for a sophisticated, modern appearance while still being instantly recognizable as a Ford F-Series® truck.
The front clip features standard LED lighting that gives the vehicle a refined yet muscular look and improves visibility and driving experience while lowering maintenance costs. F-150 series vehicles from Lariat to Platinum feature C-Clamp DRL signature lighting. On lower series vehicles, you'll find an amber horizontal turn indicator and signature lighting.
The classic grille for F-150 has also been redesigned with premium materials and colors to perfectly complement the color and shape of the vehicle.
On trim options like STX, customers will experience the all-new coast-to-coast grille which blends more aggressive styling with classic Ford design language while maintaining the Built Ford Tough capability that is central to the F-150 nameplate. This coast-to-coast grille gives customers the option to add modernized, sporty styling to their F-150 vehicle with excellent durability thanks to Built Ford Tough construction.
STX customers will also notice Lime Green accents throughout their vehicle to truly make it pop.
F-150 now has more distinct appearance packages designed to help meet every customer's need and use case. The Black Appearance Package, one of the most popular choices, is now offered on models from STX through Lariat. The Platinum series will feature a blacked-out interior and exterior accents from factory.
New wheel options perfectly complement F-150 appearance packages – customers can choose wheel options ranging from blacked out to chrome depending on trim choice. Multiple wheel designs and sizes, depending on vehicle series, work to help ensure that there's an F-150 vehicle for every personality.
The Platinum Plus series, new for 2024 and replacing Limited as the most premium vehicle option, provides even further luxury for F-150 customers. Platinum Plus includes an exclusive Smoked Truffle Interior Theme with Bronzed Copper accents.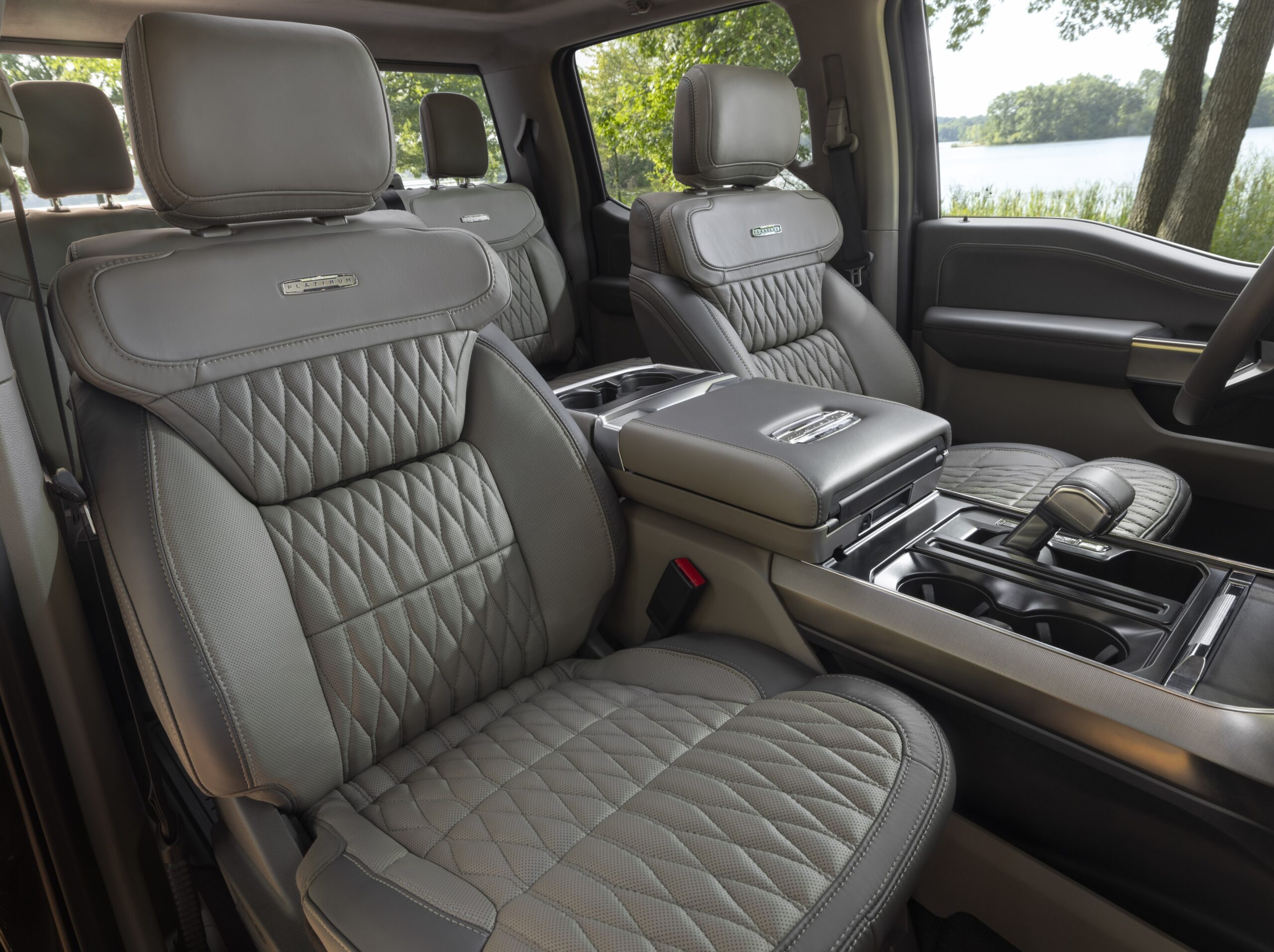 Base Platinum has Platinum Blue accents along with genuine brushed aluminum.
A dual grain strategy is used on XL and STX grilles to accent the geometry, giving it a more refined and technical appearance while also providing Built Ford Tough durability.
On XLT and Lariat, the new modernized Medium Dark Smoked Truffle color seats paired with a black interior give the vehicle a warm appearance, combining earth and mushroom tones for a natural feel that's the perfect companion to the black interior color scheme. Platinum Plus will also be available with a new Smoked Truffle interior featuring Dark Smoked Truffle accents.
The new King Ranch® interior includes updates such as a bi-metallic color scheme on the interior and exterior, now with Sinister Bronze paired with chrome, and perfectly communicates the tough, yet refined design language of King Ranch. To add even more customer-focused detail, door and trim details now feature a micro-texture reminiscent of a bullwhip — a small detail that is perfectly fitting for King Ranch.
The exterior and interior design of King Ranch, which previously included a single metal finish, will be complete with a two-color metal finish strategy to give a premium appearance to the vehicle. An all-new Bronzed Copper finish will accent the tarnished brass metal finish in the interior of King Ranch.
Every material in the Ford F-150 is held to the highest standards of quality. The fabric on seats, for example, is specifically designed to meet the high-intensity use cases of F-150. Likewise, the new grain selection for F-150 was specifically chosen for its durability and scratch resistance. The grain patterns used in front-end materials are designed to be robust to minimize damage from rock chips, with the F-150 front end featuring one of Ford's best performing grains for scratch and marring resistance.
Easier to Order

Customers will be able to more easily build or find the F-150 they are looking for thanks to a simplified ordering experience.
Ford has reduced ordering complexity by 90% compared to the 2023 model.
This simplification means some popular features – like the extended range fuel tank and Class IV trailer hitch – are now standard.
Popular freestanding options like moonroof, Max Recline Seats, axle upgrades, and tow mirrors can still be ordered outside the package offering.