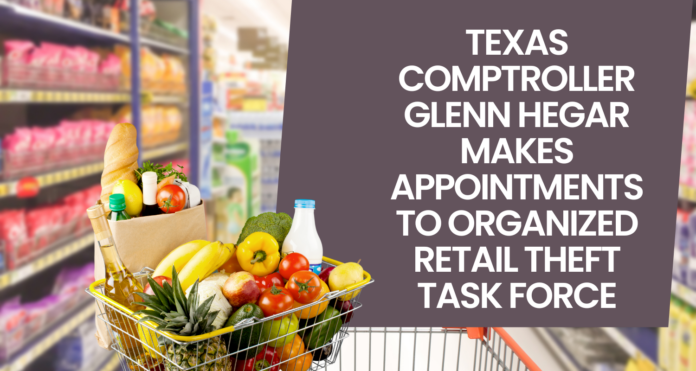 (AUSTIN) — Texas Comptroller Glenn Hegar today announced 10 appointments to the recently created statewide Organized Retail Theft Task Force, which will study the impact of organized retail crime in this state and provide recommendations to address this problem. Hegar will serve as the lead administrator of this legislatively mandated task force, which will meet quarterly and publish a report for the Texas Legislature by December 2024.
"I am pleased to be leading this critical effort and grateful to all the members of this task force for agreeing to serve," Hegar said. "We have all seen the shocking images of organized mobs ransacking retail outlets in California, Illinois and other states. These brazen attacks cost retailers and make shoppers feel unsafe.
"While Texas has seen fewer of these instances, we are not immune. The Legislature has taken critical steps to support law enforcement and hold criminals accountable, and I am confident that this task force will help Texas' efforts to prevent this lawlessness from spreading in our state."
The task force was legislatively mandated by House Bill 1826 during the 88th Texas Legislature. The House Business and Industry Committee studied the effects of organized retail theft on Texas businesses as one of its interim charges. The committee found that this type of theft is a serious problem increasing in intensity in Texas and across the country and that retailers are looking for help combating it.
The task force will meet quarterly, conducting an ongoing study of organized retail theft. It will make legislative and other recommendations to prevent organized retail theft, address the crime's long-term economic impact and enhance consumer protections.
A person who commits organized retail theft intentionally conducts, promotes or facilitates an activity in which the person receives, possesses, conceals, stores, barters, sells or disposes of stolen retail merchandise or merchandise explicitly represented to the person as being stolen retail merchandise.
"The mob attacks on retail outlets are only part of the problem," added Hegar. "The ease with which these criminals can move from one community to another to steal and fence merchandise or utilize online marketplaces to easily liquidate stolen goods presents new and unique challenges including jurisdictional issues. This task force unites businesses, local officials, law enforcement and consumers whose wide range of expertise will be crucial as we fight this growing problem."
Hegar's appointments to the Organized Retail Theft Task Force are:
Adam Colby, Texas Financial Crimes Intelligence Center
Carly Richter, Comptroller of Public Accounts (Criminal Investigation Division)
Tiana Sanford, Montgomery County District Attorney's Office
Faith Kohler, Amazon
Christian Hardman, eBay
Adam Mendoza, Target
Darrell S. Taylor, H-E-B
Corey Yates, JCPenney
Art Lazio, 7-Eleven
Joyce Beebe, Rice University (Baker Institute)