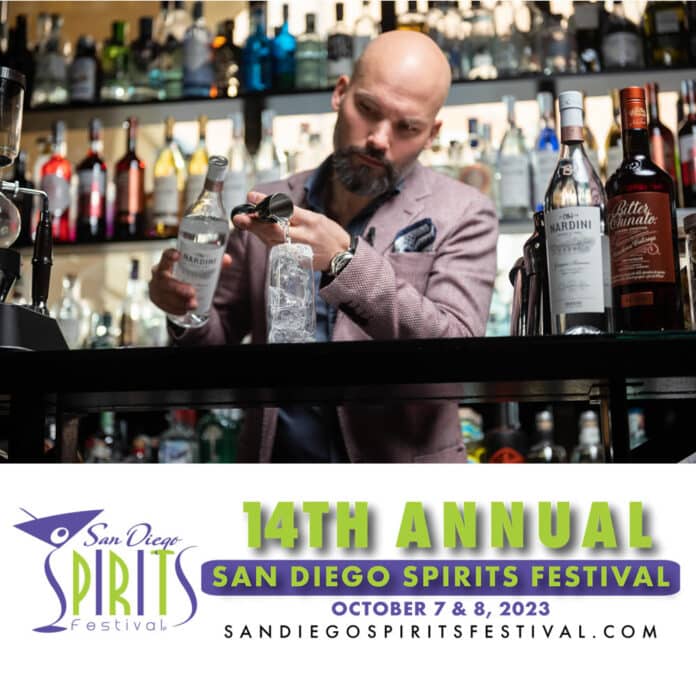 SAN DIEGO – Sept. 7, 2023 – San Diego Spirits Festival, a world-class cocktail and cultural event hosted at Museum of Contemporary Art San Diego in La Jolla (MCASD), has announced its initial lineup of industry-leading spirits and brand launches that will be featured at the event, taking place on Saturday, Oct. 7 and Sunday, Oct. 8. Tickets are available for purchase here, including passes for a luxe VIP experience.
To complement the coastal La Jolla view, the upscale two-day event will offer novice cocktail lovers, experienced mixology professionals and restaurateurs the opportunity to sip exceptionally crafted cocktails and explore industry trends from more than 20 distilleries and counting. Vodka varieties will include a Southern California launch of Beattie's Distillery, Beam Suntory's launch of -196 Lemon Vodka Seltzer, and selections from Plush Vodka. Agave enthusiasts can revel in top-level labels including Sammy Hagar and Guy Fieri's Santo, Padre Azul, Ate Tequila, Luna Nueva, Mezcal Union and El Cristiano. The lineup will also include whiskey and bourbon distillers such as Uncle Nearest, Bob Dylan's Heaven's Door, Old Hillside, Sukari flavored whiskeys and Natterjack Irish Whiskey. To add even more flavor, San Diego Spirits Festival will also feature fine spirits from Chinola Liqueur, West Peak Cocktails, Hive₂0 hard honey beverages, Distilleria Nardini and Above Board Cocktails, a new San Diego-based distillery that will be launching at the festival. More featured spirits and local restaurateurs will soon be announced, totaling more than 65 brands on display.
The festival's 14th annual event will provide an unparalleled experience beyond its spirits lineup. With entry, guests will also enjoy live music, thrilling entertainment, the opportunity to mingle among top industry professionals and take in MCASD's panoramic views of the La Jolla coast. Guests may also watch the crowning of the San Diego Spirits Festival International Bottle Competition winners, including best overall and in categories for whiskey, rum, brandy, gin, vodka, agave spirits, liqueur and RTDs.
Since 2009, the annual San Diego Spirits Festival has brought the best of the craft cocktail scene together and has been recognized as "one of the best cocktail festivals in America" by Fodors Travel Guide and voted "Must-Try Festival of the Year" by Premier Traveler. Now in its 14th year, the San Diego Spirits Festival has quickly grown into one of the largest cocktail festivals in the country.
San Diego Spirit Festival will take place from 3 to 7 p.m. on Saturday, Oct. 7 and from 1 to 5 p.m. on Sunday, Oct. 8. General admission single day tickets, which include unlimited cocktails and a one-day pass to return to MCASD, begin at $100 for individuals on Saturday and $90 for individuals on Sunday. General admission group passes are available for parties of five or more, beginning at $85 each for Saturday and $80 each for Sunday. VIP tickets, available exclusively for Saturday, are priced at $200 and include an annual pass to MCASD, access to an exclusive VIP area with tastings from top International Bottle Competition winners and more. All guests must be 21 years of age or older. Tickets are now available online here.
More information about the festival can be found on the website at www.sandiegospiritsfestival.com.