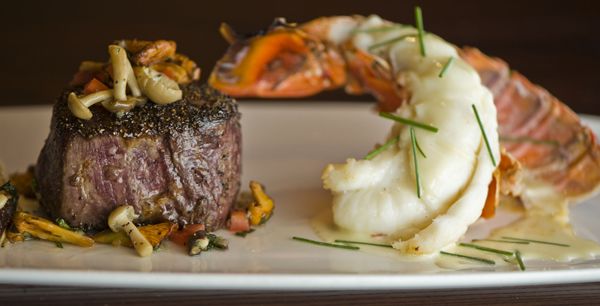 Romantic Dallas Restaurants For Valentine's Day
Take the one you love out for dinner this Valentine's Night. Don't forget to make reservations at some of these Dallas area hotspots with a variety of cuisines perfect for a romantic night out.
Dallas infamous Fairmont Hotel was a stop we made recently to try some of the chef's delights, but the Pyramid Restaurant and Bar really offers an incredible mention for Valentine's Day. The restaurant setting is modern with an ambiance that relaxes and an award-winning culinary team prepares modern American cuisine using local growers whenever possible. As often as possible the menu pulls from herbs and vegetables from the hotels 3,000 square foot herb and vegetable garden on the rooftop terrace. Make sure and ask about the Valentine's Day special packages.
In McKinney, go for the fresh food with a twist at Harvest Seasonal Kitchen.
Harvest offers some of the best food in town , think crispy green tomatoes, deviled eggs for appetizers and beer battered Texas Striped Bass or Chicken Fried Chicken for a main. We love the décor, a lazy, shabby chic with an overall maxim to work with only local and fresh vendors. The menu is seasonal featuring organic ingredients. And while owners say "We aren't changing the world," they also add "but we hope to plant a seed of consideration of sustainability for future generations to come."
Go all out and consider the Chef Tesar Texas grown restaurant Knife. Using his relationships with Texas ranchers and farmers including Heartbrand Beef and 44 Farms you can be sure Tesar's food is as good as he is and sourced from only the best. With a combination of classic and modern, this is one steakhouse where you can order anything from a dry-aged prime cut prepared in cast iron to a steakhouse broiler or lamb and be sure it's all-natural born and raised. Also on the menu the more exotic cuisine choices like beef tongue, oxtail and even Akaushi beef. Wine pairings are a must here and pair that with our recommendations that include the bacon crusted bone marrow and caviar, the French onion soup and perhaps for the little something comforting a dry-aged option. It's a night you won't forget.
Speaking of steakhouses, you can't think Dallas and not think immediately of Del Frisco's Double Eagle Steakhouse. The Fort Worth location has won the moniker of #4 steakhouse in DFW and the Dallas location sits right alongside. A marvelous shellfish menu begins the night and from there the waiter can list every item on the menu verbatim with a smile. No small feat, but then comes the decision of what to order. The Shanghai-style fried calamari is a winner for an appetizer followed by perhaps a Blue Cheese Lettuce wedge, but the real choice is determining which tempting main to consider. The Broiled Lobster Tail is carved tableside, but the Filet Mignon or Prime Porterhouse is also a tried and true winner. For a night of love, begin big and add a few signature cocktails to the playlist aka the Pomegranate Martini or Del's Manhattan and remember a good meal is the way to any person's heart.
Area favorite Asador at the Renaissance Dallas Hotel is casual, but with a big personality. It's not about dressing up here, it's about eating the cuisine that most folks expect will only come out of fou fou kitchens, but au contraire. The Asador menu features all natural meats and poultry, sustainable seafood and as much locally fresh produce as possible. Celebrated Chef/Restaurateur Dean Max has certainly added a creativity to the culinary landscape of the Dallas Market Center neighborhood, but even more the bold flavors on the menu create an American cuisine with a Latin flare and a farm-to-table approach. Try the Crispy Texas Pork Belly, Goat Cheese and Beet Salad and the Texas Tomahawk Pork Chop, while it's not a French thing to do my colleague couldn't resist asking for a "doggie bag." Drinks are also top-of-the-line with fun inspirational choices from Gran'mas Little Secret with spice pear Vodka to a Cherry Old Fashioned mixed with Michigan cherry infused Buffalo Trace bourbon.
Stephan Pyles latest restaurant offering San Salvaje is the place to eat and be seen offering inspiration from a bit of the pagan indigenous culture. The resto name means Wild Saint and it's all about the cultural foods here that really are found in pagan cultures turned saints in Latin America. If you're wondering how to impress your date on Valentine's Day this place will create that air of mystery with plates ranging from squid tacos to Cuban spiced butternut soup and pumpkin-chorizo empanadas. A fusion of energy and good food combined San Salvaje is definitely a nod to the wild saint in all of us, what better day to find out for yourself your inner spirit, think Valentine's Day with a lot of love.
Live music and a great kitchen with a menu that boasts combined flavors as unique as Three Cheese Toast with prosciutto, pear and pistachio or Deviled Eggs with Gulf Blue Crab, it's Cook Hall located at the W Hotel Dallas where it all comes together. Executive Chef Nick Jimenez is a culinary delight in the kitchen serving up combinations like Rigatoni short rib Bolognese, fresh Tagliatelle with smoked bacon, tomato, jalapeno and arugula or caramelized beef tenderloin with a red wine miso glaze and potato gratin. Save room for an amorous dessert the Autumn Cheesecake was a winner as is the S'mores with graham cracker ice cream, nothing more romantic than good fun.
Right in the heart of Uptown, Malai Kitchen is a showcase of Southeast Asian cuisine led by a husband-wife team whose idea was a concept gleaned from their travels through Thailand and Vietnam combined. More local ingredients sourced here for the freshest menu and most of the items on the extensive menu are made from scratch. For a dreamy beginning to an exceptional meal try the Lemongrass Mussels and the Ahi Tuna Tartare then take a chance with the Jungle Curry Hot Pot with Shrimp followed by Iron Pot Green Curry Kitchen. Of course the Mango Sticky Rice Smash is a hit with an unusual draft beer you can't find in Dallas like Hue Lager from Vietnam or a Thai-P-A that is brewed in house.
Finally, while it's not the romantic atmosphere of a fancy restaurant, it is healthy and Start (real fast food) recently opened a second location on Lemmon Avenue. It's hard to believe you can get healthy food like pancake sandwiches for breakfast or a variety of wraps that taste better than anywhere else in town – through the drive-thru. A special Valentine treat no matter the tastes buds (or the allergies) Start has a gluten free chocolate cake or Iced Sugar Cookies made with whole wheat pastry flour and organic butter.