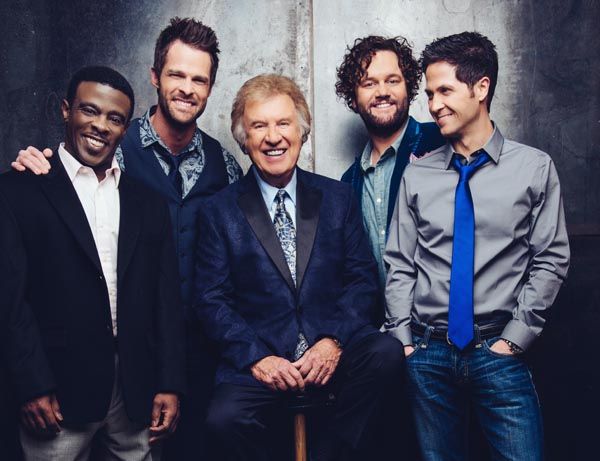 Gaither Fest 2016 Visits Plano
Multi-Grammy Award winning recording artist, Bill Gaither will present Gaither Fest 2016, a two-day music spectacular at the Prestonwood Baptist Church in Plano, TX, on Friday and Saturday, April 22 & 23, 2016. The legendary recording artist will present an exciting celebration, filled with the very best in Christian music, including Gaither's own multi-award winning group, The Gaither Vocal Band.
This energetic Gaither Vocal Band will join several other popular Christian recording artists, as well as the 500-Voice Prestonwood Choir at the Gaither Fest 2016 Texas Spectacular. It's difficult for Gaither to contain his excitement as he talks about this exciting event.
"This is going to be good!" Gaither says with a big smile. "We have hosted the Texas Homecoming event for many years. Last year, we were delighted to bring the event to the beautiful facility at Prestonwood Baptist in Plano. It proved to be a wonderful move, and we are looking forward to another fantastic weekend when the event returns to Prestonwood in Plano in 2016. We hope all our friends in Texas will join us for this special two-day Texas Homecoming event."
For nearly half a century, Gaither, a multiple Grammy and Dove award winner, has been a musical trailblazer. His reputation as a performer, songwriter and mentor for newly-discovered artists is known world-wide. His beloved series of Homecoming CDs and DVDs continues to top the sales charts and attract an ever-increasing audience.
Gaither's Music Inspires
"There are few things in this world I enjoy more than leading an audience through an evening that leaves them inspired, encouraged, hopeful – perhaps introducing them to songs or ideas they can hold onto when life gets tough," Gaither shares. "It is always my goal that a Gaither concert lasts much longer than one evening, but that it stays with folks long after they walk out the door of that concert venue."
Whether you are a brand new fan or a longtime lover of feel-good Gospel music, you don't want to miss this incredible concert experience.
"We always love coming to the Metroplex area," explains Gaither. "It is always a very special weekend, and I invite everyone to join me and my special 'friends' for this uplifting weekend that will be filled with joy, laughter, good music and great memories."
Gaither Vocal Band Performs With Friends
The roster of talented "friends" taking the stage with Gaither and the Gaither Vocal Band, featuring David Phelps, Wes Hampton, Adam Crabb and Todd Suttles includes The Isaacs, The Martins, Karen Peck & New River, Gene McDonald, Angela Primm, Charlotte Ritchie, Buddy Greene, Lynda Randle, The Nelons, Mark Lowry, Goodman Revival and Kevin Williams.
The Gaither Fest 2016 event will also feature Lee University's famed Voices of Lee choral ensemble. Additional information, including a complete listing of artists scheduled to appear, is available at www.gaither.com. To obtain complete information or to charge tickets by phone, call 800-406-4224. Make plans now to be a part of Gaither Fest 2016 at the Prestonwood Baptist Church in Plano, TX.