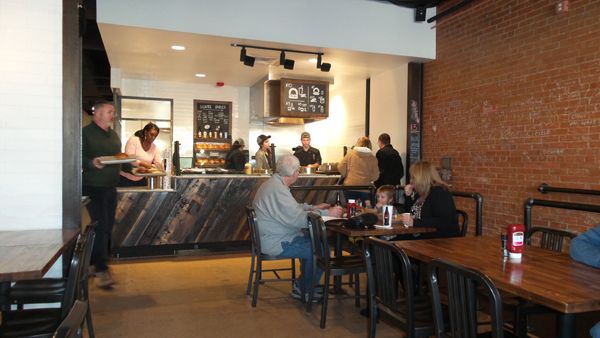 Looking for the best burger or a place to sink your teeth into some authentic Mexican food with a side of tequila, look no further we have you covered this Fourth of July holiday.
Dugg Burger
If you are looking for a simple burger with a simple menu, but not a simple taste check out Dugg Burger in Dallas' Lakewood area. These guys have created the perfect burger concept where the juicy style burger, complete with organic meat, is served inside a tasty bun. Even better, you get to choose your own fixings while the burger master digs out the bun and replaces it with your chosen ingredients.
Turning the world of burgers upside down, Dugg Burger opened earlier this year and was founded by Jeff Braunstein, Martin Hennessy, Scott Spence and Jeremy Samson, four burger-loving restaurant industry veterans who collectively boast over 70 years of experience.
A revolutionary burger concept indeed, Dugg Burger combines simplicity with innovation and the name appropriately comes from the unique process of digging out the top portion of the bun so as to reverse the burger-building process.
"Dallas is a burger town. People aren't even going to walk in the door if you don't have a great burger," says Braunstein. "Guests have been loving our burger because our dug out bun lets them taste more of the meat and toppings. This process also allows us to provide a high quality, customized burger — done quickly. We believe that was something missing here in Dallas."
For toppings – well that is simple since you can choose from the "Dugg Dozen" toppings or take a chance on the day's rotating Lucky 13 topping, a surprise every day.
What is not a surprise however, the Dugg Burger philosophy, which emphasizes guest customization while keeping pace with a faster moving style of foodie.
Located in the hip area of Dallas in the Northeast corner of the Casa Linda Shopping Center, Dugg Burger is casual, but expect to be impressed.
Dugg Burger
9540 Garland Road, #407- Dallas, Texas
Lazaranda
For Tequila lovers who want a great Mexican meal to go with it, check out Lazaranda, Modern Kitchen & Tequila, offering a classic and contemporary Mexican cuisine meaning a meal Texans will love with a modern Mexico-style flare. Lazaranda is actually the first U.S. venture of veteran Mexican restaurateurs Mario Letayf and Antonio Marquez."We are proud to bring Dallas the food we serve in our restaurants in Mexico and that I prepare in my home. We invite you to enjoy and live Mexico," says Chef Marquez, whose 30-year career has brought him from Paris to Los Angeles, back to his native Mexico, and now to Texas.
"'Authentic' is a word that is frequently used," adds Letayf, who has owned and managed restaurants in Mexico for 20 years. "Since Lazaranda serves the contemporary cuisine of Mexico. Lazaranda is truly the authentic restaurant that many others claim to be."
In keeping with a great kitchen and menu, Chef Marquez has a number of culinary degrees to bring to the Lazaranda kitchen from both Le Pot au Feu and the prestigious Le Cordon Bleu.
Must-try menu items include the ceviche, one of the most versatile dishes of Mexican cuisine. Lazaranda offers a specialty section of ceviche with a variety of flavor combos or there is also the specialty dish called Chamorro, which is slow-roasted pork shank cooked in barbecue pits, wood-fired ovens or even in holes in the ground, where charcoal and hot stones serve as low-temperature ovens served with baked black or pinto beans.
What word will you come away with after a meal at Lazaranda Modern Kitchen & Tequila, definitely authentic and the Tequila bar is worth a visit even if you aren't hungry.
Addison Walk: 5000 Belt Line Rd. Suite 850 – Dallas, Texas
Comments
comments