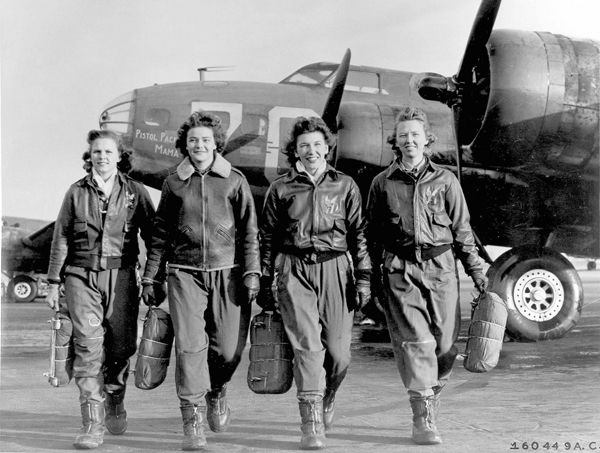 WINGSPAN THEATRE COMPANY, in cooperation with The Bath House Cultural Center/The Office of Cultural Affairs, will present a two day staged reading of a new play: FLY BABIES – By Rusty Harding. This "hot off the presses" new play has been taken under the wing for development and a workshop staged reading.
FLY BABIES explores the intriguing true story of the Women Airforce Service Pilots (WASPs) of World War II. 20,000 applied, 1100 served, and 38 died. A story of courage and dedication as four young female pilots experience the challenges, triumphs, prejudice, and tragedies of serving their country on the home front. The young pilots soon discover that not all battles are fought overseas.
The playwright, Rusty Harding, has a great passion for writing stage plays, screen plays and fiction novels. Rusty has published two novels: The Instrument of Darkness and Murphy's Law (The Fiction Works), optioned two screenplays, and published three stage plays: There's No Place Like Homer, Western Union and Never Call Me A Lady. Rusty has also dabbled in acting over the years with Richardson Theatre Centre. Plus he is one of the Founders of Lunatic Theatre Company. Rusty is a graduate of Texas A & M University and resides in Garland.The Staged Reading will be directed by Lulu Ward. The Cast: Elly Lindsay, Barrett Nash, Katy Tye, Jaquai Wade, Parker Fitzgerald, Holly He, Molly Welch, Leslie Patrick and Beau Trujillo.
The location is The Bath House Cultural Center, 521 E. Lawther Drive, Dallas. The Staged Reading dates are Friday, April 8 and Saturday, April 9 at 7:30 p.m. There will be Post Show Talk Back on both evenings with playwright, director and cast. The admission charge is PAY WHAT YOU CAN.
FOR RESERVATIONS OR ADDITIONAL INFORMATION CALL: (214) 675-6573 or via EMAIL to wingspan@wingspantheatre.com.
***
Perot Museum of Nature and Science in Dallas has mounted its first self-curated exhibition to showcase what they believe to be the world's largest collection of Star Wars mementos, PEZ dispensers, Ballet Folklorico costumes, African-American dolls, Dallas Cowboys memorabilia, and other collections. There's also unique jewelry, vintage bikes and historic artifacts from Nancy and Randy Best.
The Eye of the Collector exhibition brings a melting pot of people's precious possessions, including some wearable works of art, together. Signature pieces from the Bests' extensive collections take viewers on a journey from paleontological specimens to pre-Columbian artifacts and weapons. Presented by Highland Capital Management, this exhibition explores the reasons why people and museums collect. Motives may include curiosity, connection, and the thrill of the hunt to creating a legacy.
The Eye of the Collector exhibition is free for Perot Museum members, but requires a surcharge for non-members.
***
The public is invited to join in the excitement of The 5th Annual DSM High School Musical Theatre Awards on Thursday, April 14, at the Music Hall at Fair Park. Red carpet arrival begins at 5:30 p.m. The show begins at 7 p.m. with performances which include separate medleys of the Best Actor and Best Actress nominees, production numbers from Best Musical nominees and an opening number featuring all nominated performers accompanied by a live orchestra.
Winners and scholarship recipients are announced. The show is topped off with a finale of performers from each participating high school. Holly and Brad Reeves are Honorary Chairs of the event.
Michael A. Jenkins, President and Managing Director, Dallas Summer Musicals, Inc. (DSM); John R. Clutts, Chairman, the 5th Annual DSM High School Musical Theatre Awards (HSMTA) and Tracy Jordan, HSMTA Program Manager, recently announced the nominees for the HSMTA.
"This year has broken all records for participating schools in HSMTA," Jenkins said. "There are 67 schools participating showcasing 70 shows, representing 33 school districts across north Texas. Among the 67 are also 7 private schools. In addition, 6 schools have entered two musicals this year for the total of 70 productions which were evaluated. This represents a new all-time high of schools, teachers and students taking part in the program. This is more than double the first year's total of 30 schools participating."
Winners of the Best Performance by an Actor and Actress will receive an all-expense paid trip for five days to New York City to represent their school in the National High School Musical Theatre Awards (the Jimmy™ Awards) for the chance to win prizes and scholarships, which vary by year.
Comments
comments